Why Himalayan Yoga Academy Remained Open in Whole Lockdown Period?
24 Jan 2021 HYN Himalayan Yoga Academy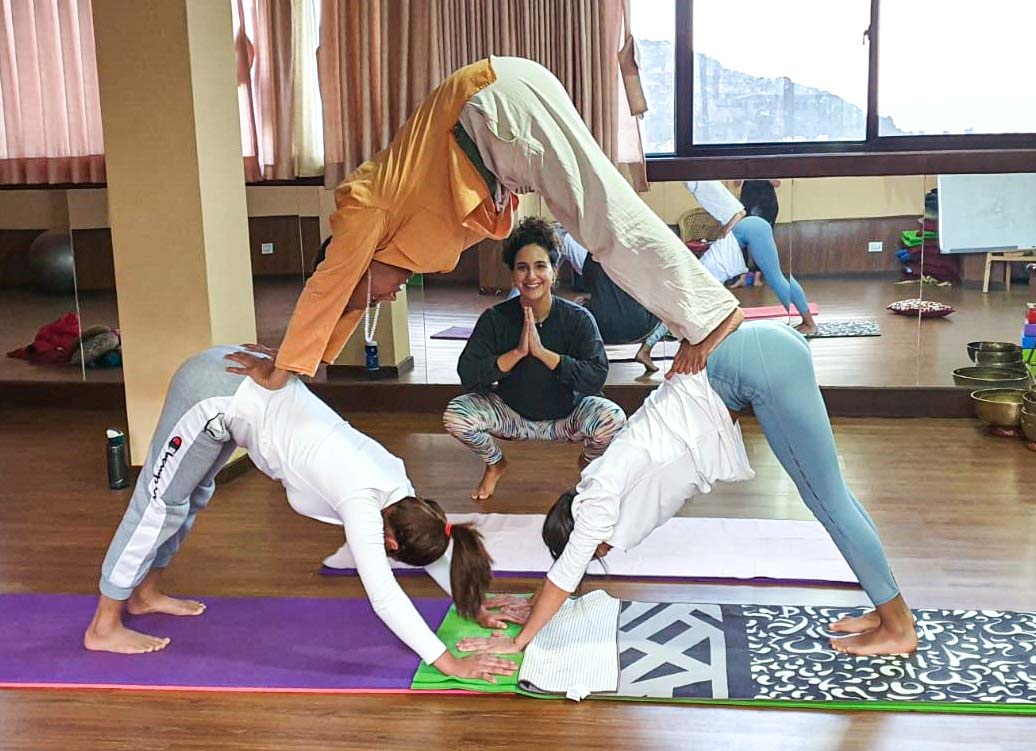 Background :
Himalayan Yoga Academy is a Yoga commune, not a Business Company. This international school is located in country sides on lap of Jungle called Raniban (Jungle of Queen) and crown of New Town called Sunrise Height within Kathmandu city (City of temples) run by professional. The only one motto of this school and owner too is to facilitate the global people by fusing the ancient wisdom and modern technology. The owner informally began to put the step in Yoga and Tourism since 1997 and institutionally since 2007. His focus was to knock the global people wake from asleep of sub-conscious mind and raise them who are innocently falling in ignorance of ultimate reality of life and its phenomenon.
The Message :
Since the beginning of the school, we have been working in lifestyle management by teaching the art of living throughout the biological clock of 24 hours i.e. 1440 minutes or 86400 seconds.
We always tried to provide the right message of yoga as a union of acts in a moment being aware, awake, and alert for sound health, purity, happiness, blissfulness in their life, and eventually keep free the people from sufferings.
Since beginning of the programs we have always talked about the natural immunity as a original vaccine in the body. Himalayan Yoga Academy have always emphasized the health management rather than disease management. We always talk natural right, universal phenomenon, original rites and culture, sense of humours, unconditional rules rather than unnatural, artificial, man-made things, conditionals.
The Fact :
Viruses are creatures, a microscopic organism always appear, bring hazards, and somehow disappear, so it is not the solution to scary, to escape and to tense, it comes and goes that is natural. But our intelligence or our consciousness might be foresight that we have the permanent thing forever generation to generation until this species remain in this world that thing is our immunity, natural immune called original body vaccine.
We have posted the covid-19 integrated tablets for prevention, remedies, healing, motivation, counseling through online and blog articles, videos, short notice and webinar presentation as well in social Medias and zoom online.
We always informed and encouraged the people either to do yogic practices or to work hard in different fields, even farming, constructions, etc.
We focused that everybody needs to break the sweat, enough cardio exercise, breath workout acts, hiking, trekking, climbing, etc.
Practice of Yoganga during Covid-19
We have messaged them to do all yogic tools such as Nasal cleansing (Jala Neti), frontal brain cleansing (Kapalbhati ), Gargle and Rinsing, Jogging, physical Exercise, Yogasana, Breathing Acts, Pranayama, Yoga nidra, Meditation etc.
We have also advised the people to apply natural and healthy food habits, herbal tea, natural spices, drinking water, enough sleep.
We have encouraged applying the laughing therapy, clapping therapy, Reiki Healing, etc.
There were no any options except Yogic capsule. So we remained the school open and continued the classes to both Nepalese and foreigners.
We are lucky because 2 to 3 persons of foreigners always were with us. Some of them stayed 27 days and some two months in Yoga Teacher Training 200 hours and 300 hours.
Conclusion :
Pandemic situation started and lockdown began. People were locked and stayed at home, slept in bed, watched television, saw the data of death and infected people, thought too much, got scary, torched mentally, got worried about the situations, all these issues made them trouble that reduced and completely scaled down the immunity like battery down. So viruses are temporary but immunity is everything in life that is permanent, stays with us forever. Let's recognize and boost and keep our generation safe and live.