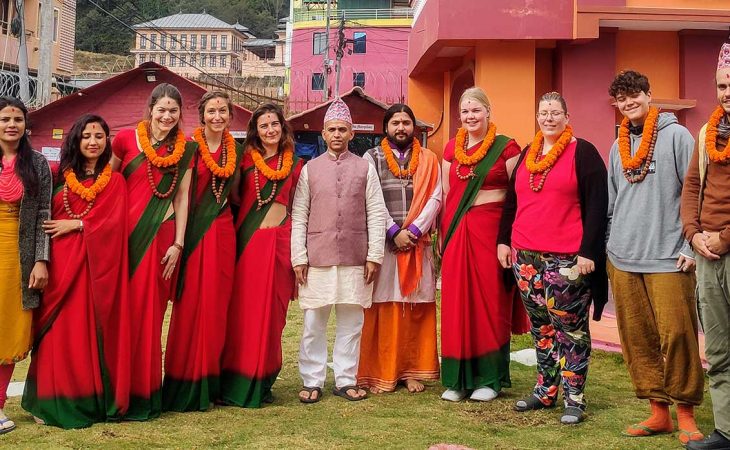 200 Hour Yoga Teacher Training in Nepal
Himalayan Yoga Academy offers 200 hours first level of 200 Hour Yoga Teacher Training in Nepal - 26 Days with fundamental principles of Yoga Sciences, Philosophical Aspects, Training skills, Workshop, Teaching methodology, Practicum in very original foundation.
200 Hour Yoga Teacher Training Yoga Course Objectives
Our 200 Hour Yoga Teacher Training in Nepal goals are to:
✔ Offer inspiring, education, and authentic yoga teachings to you no matter what your level of practice is at.
✔Encourage you to deepen your love for yoga, and offer you the skills to get confident at teaching yoga safely with your own students.
✔ Build a positive learning environment in which you and all other like-minded yogis will thrive in, and create long-lasting friendships.
Eligibility to join 200 hour Yoga Teacher Training Course
This 200 hours Yoga Teacher Training Course is designed for everyone no matter their background, nationality or religion. Be ready as these course will lighten your paths and open a gate of hopes for better life.The age of the student shouldnt be less than 18 or more than 60.
Certification of 200 hour Yoga Teacher Training Course 
After successful completion of the 200 Hour yoga teacher training in nepal course students will receive the 200 hour yoga teacher training certificate enabling you to register with Yoga Alliance or any other Yoga Federation in your country. This course will provide you new insights in all areas of yogic practice and also present you an opportunity to become a Registered Yoga Teacher (RYT 200)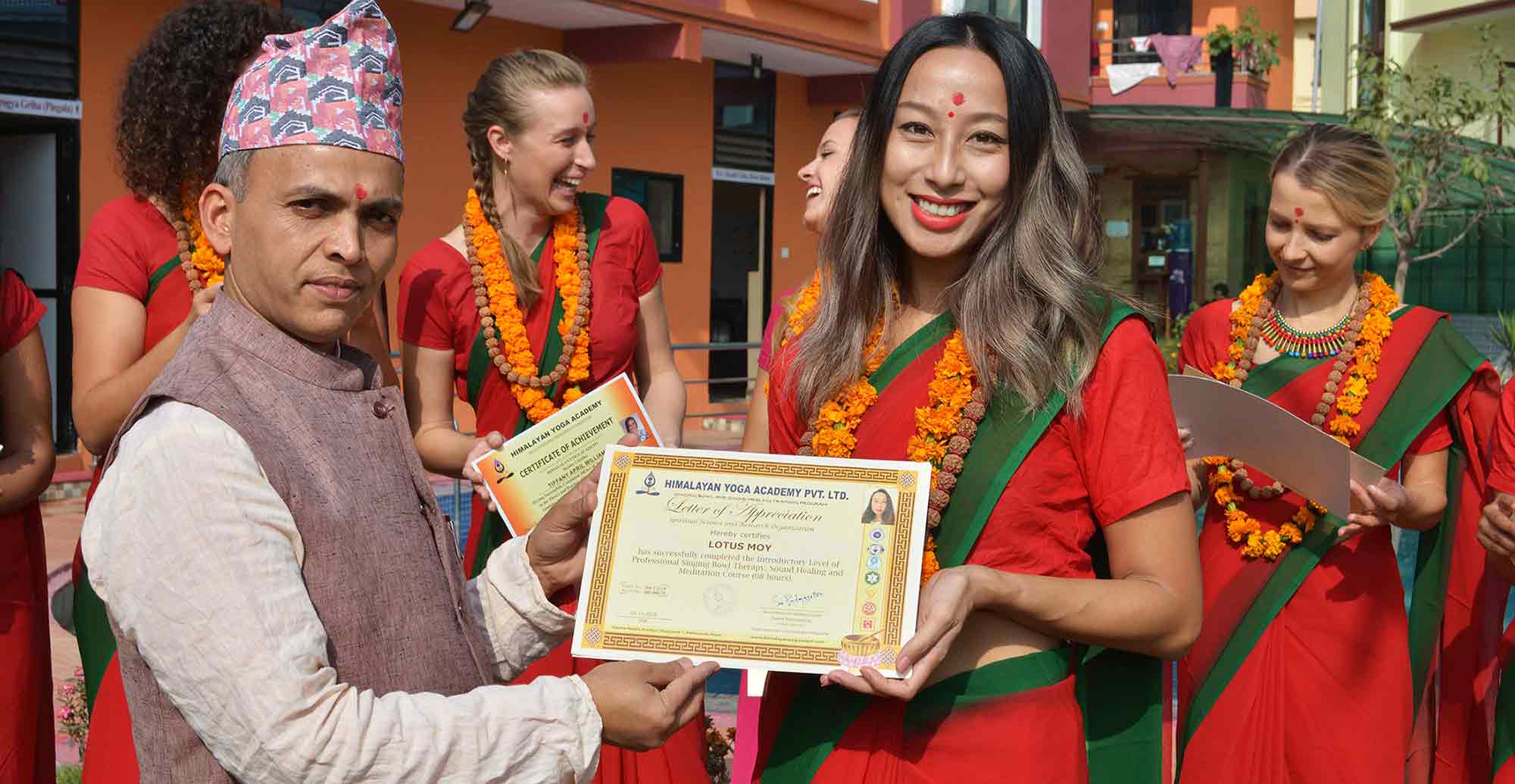 What You'll Leave With
Authentic yoga knowledge in yoga posture, alignement, history, and anatomy.
An established inner teaching voice sharing your wisdom with many others.
Mindfulness practice to embrace the present moment.
A confident voice to lead and inspire others to lead a more spiritual way of living.
Lasting friendships with like-minded souls from all over the world.
The experience of living in nature in beautiful Nepal, the land of Himalayas
Why 200 Hour Yoga Teacher Training in Nepal ??
This Training course needs much practice.The students should have clear vision and aim. Needless to say, the training aims to accompany and support you in your quest of attaining mastery over traditional  Hatha Yoga and Ashtanga Yoga with introductory knowledge and practice command on Mantra, karma, Bhakti, Jnana, Dhyana and Kundalini Yoga. The Yoga Teacher Training course program utilizes a carefully formulated curriculum to bestow upon you the power of imparting knowledge in others who wish to find peace within – Thus making you a New Yoga Guru. 
We present the Yoga Teacher Training (YTT) 200 Hours Course - 26 Days with a progressive approach to yoga. We teach primarily in English, followed by Sanskrit and Hindi languages as well. This Training Program is the perfect platform for you to lay the groundwork to be a motivational Yoga Teacher. The training by itself will build you a solid foundation. We teach program in a traditional and relax environment. It will encourage, support and guide one to learn more about oneself. Come prepared to push your mental and physical limits to attain your goal of becoming a Yoga Teacher.  We will also provide you all necessary support files and videos throgh Google Classroom.
Assignment And Exam
There will be a practical and a theory exam at the end of the course.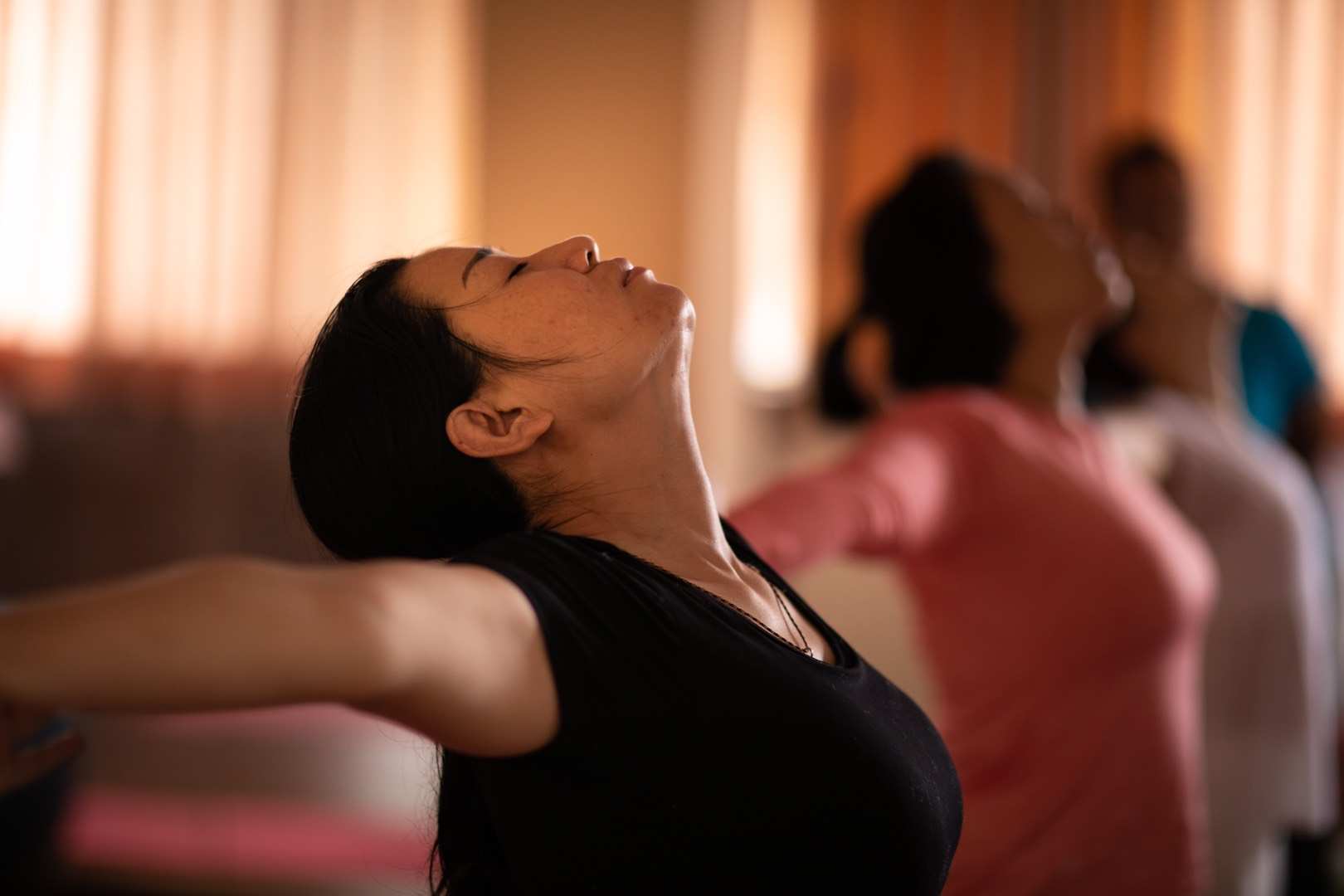 Accommodation and Facilities
Neat, beautiful and well-furnished rooms are going to be provided to form your stay comfortable. Each room will have attached bathroom with the power of both hot and cold water. Besides that, the rooms also will have a free Wi-Fi with necessary amenities for day to day life.
Day Schedules
06:00 am – Wake up and Ushapan (Early Drinking water) -personal time
06:30 - 07:00 am – Jala Neti (Nasal Cleansing) and Herbal Tea
07:00 - 08:45 am – Bhakti Yoga (Prayer/Chants), Warm up exercise, Suryanamaskar, Yogasana, Bandha, Pranayama, Shanty Path (Peace Mantra
09:00 - 10:00 am – Breakfast and Herbal Tea
11:30-01:00 pm- Yoga Class Theoretical& Practical 6 Days a week
01:00-02:00 pm- Vegetarian Lunch and Herbal Tea
02:00-03:00 pm - Library / Self-study
03:30-05:00 pm- Yoga Practical Class 6 Days a week
05:00 - 05:30 pm – Herbal Tea
05:30 - 06:40 pm – Bhakti Yoga (Prayer/Chants), Spinal Asana/ Suryanamaskar; Yoga-nidra, Mudra, Dhyana Yoga (Meditation)

07:00 - 07:30 pm – Dinner and Herbal Tea
07:30 - 08:30 pm – Bhakti Yoga (Prayer/Chants), Trataka (Concentrated Gaze) and Discussion 08:30 – 09:45 pm – Evening walk, Vajrasana, Self-study & Practice (Guidd and Self Practice Time)
10:00pm – Bed Time (Lights out)

Note
Monday will be Weekend Day

One Day World Heritage Yoga Tour OR, Hiking ,
200 Hour Yoga Teacher Training – 26 Days Training Cost
---
Private Accommodation - USD 1596 per person
Sharing Accommodation - USD 1330 per person
---
Note: If you are in Group, ask for special rates
What's included?
Airport Pickup Transfer (From Airport to HYA )
Accommodation; Attached Bathroom with Hot & Cold shower
Sauna & Steam; OR; Swimming Pool (Only in Summer) once a week
Towel and slippers
3 vegetarian or Vegan meals daily (Cultural Food on Festivals & Rituals)
Google Classroom Files
Daily herbal tea as mentioned above, Drinking water
Training Fees and certificates
1 therapy complement like...massage or , oil treatment or, music healing....
Library of yoga literature
Yoga Book-1, Notebook-1, Pen-1, Jalaneti pot-1, Lady Dress for Female and Yoga dress for Gents
One Day Hiking to Nature; OR World Heritage Yoga Tours (entrance Fees /Lunch excludes )
Volunteer teaching few hours a week in School as your interest
What's not included?
Laundry
Extra Tours
Extra Therapy Sessions.
---
Course Dates:
February-1 to 26
March-1 to 26
April-1 to 26
May- 1 to 26
June-1 to 26
August-1 to 26
September-1 to 26
October-1 to 26
November-1st to 26
December-1 to 26
So on year of 2021/2022
---