This one night package is for those people who don't have more time but want to have real traditional yogic experiences staying in the yogic atmosphere.Why 2 Days 1 Night Yoga Retreat Package |
1. Relaxation
2. Physical and Mental Detoxification
3. Develop Vitality and Strengthen the Body
4. Connect Yourself and Self-realization
5. Connect to Nature and Free From Technology
6. Next Level of Yoga Meditation Practice
7. Connect with Positive Source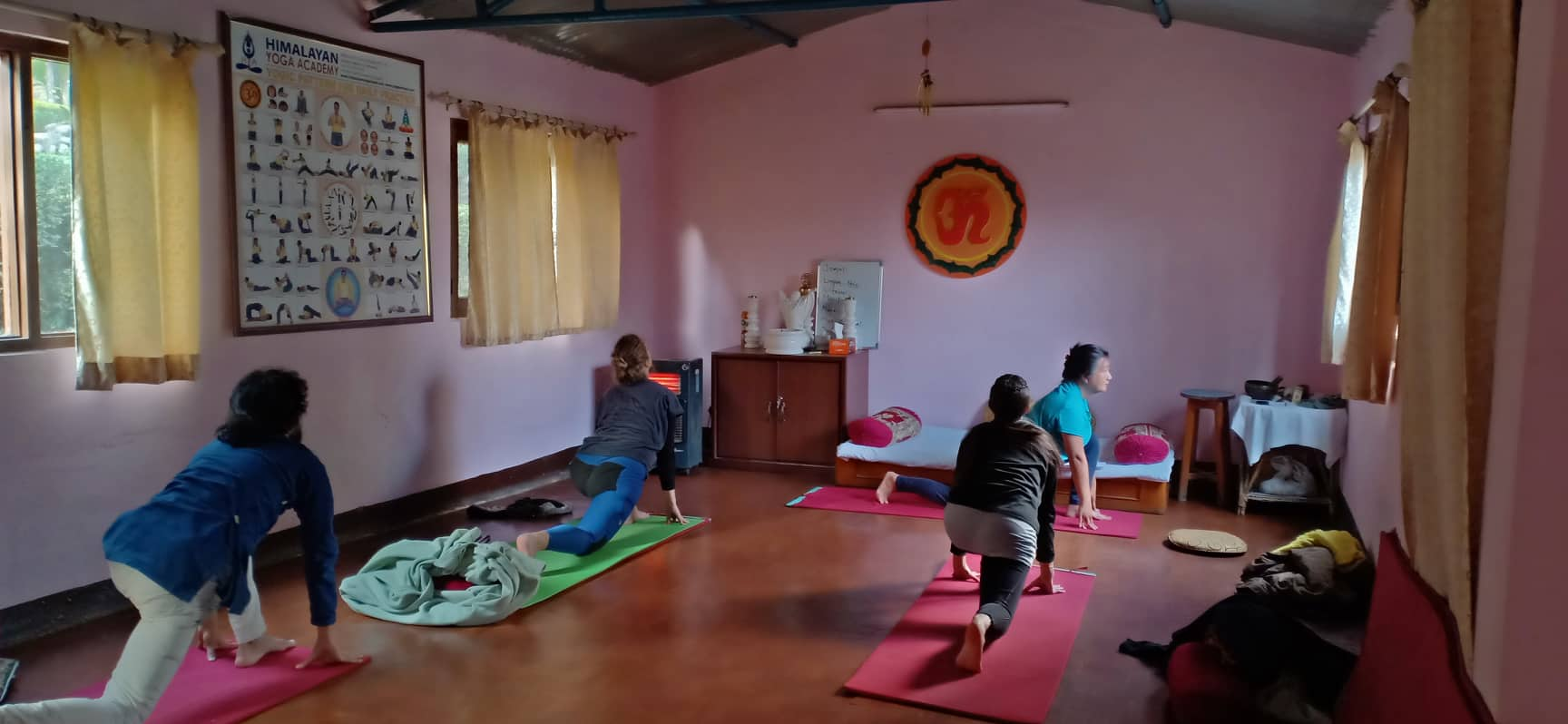 Normally In Nepal many foreigners or travelers from all around the world gather in order to do trekking and tours etc, they hang around the places of Nepal for treks and tours enjoy the surrounding and have fun. But after the treks they become tired due to walk and travel. So they need some time to rest and take care of their body. This retreat will help them gather their health back and do to their normal schedules easily. Yoga, Meditation and other experiences of this retreat will help you gather some new things and apply them in your life.
So we provide the services of standard services with cleansing acts, Yogasana, Paranayama, and Meditation, some theoretical lessons, wellbeing packages like massage, shirodhara, hiking yoga, sauna, steam bath, swimming, music, reiki practice, reflexology, herbal tea, all food and accommodation.
Daily Schedule
Before 02:00 pm – Check In; Room Arrange and Rest
05:00 - 05:15 pm – Herbal Tea
05:15 - 06:45 pm – Bhakti Yoga (Prayer/ Chants), Spinal Asana/Suryanamaskar; Yoga-nidra, Mudra, Dhyana Yoga (Meditation)
07:00 - 07:30 pm – Dinner and Herbal Tea
07:30 - 08:30 pm – Bhakti Yoga (Prayer/Chants),
Trataka (Concentrated Gaze) and Discussio
08:30 – 09:45 pm – Evening walk, Vajrasana, Self-study & Practice
10:00 pm – Bed Time (Lights out)
06:00 am – Wake up and Ushapan (Early Drinking water)
06:30 - 07:00 am – Jala Neti (Nasal Cleansing) and Herbal Tea
07:00 - 08:45 am– Bhakti Yoga (Prayer/Chants), Warm up exercise, Suryanamaskar, Yogasana, Bandha, Pranayama, Shanty Path (Peace Mantra)
09:00 - 10:00 am – Breakfast and Herbal Tea
10:00 - 01:00 pm – Rest/ Pack
01:00 - 02:00 pm – Lunch and Herbal Tea
02:00 pm – Check Out
Package Cost
---
Private Accommodation - USD 75 per person
Sharing Accommodation - USD 65 per person
---
Note: If you are in Group, ask for special rates
What's included?
Accommodation; Attached Bathroom with Hot & Cold shower
Towel and slippers
3 vegetarian or Vegan meals daily (Cultural Food on Festivals & Rituals)
Daily 5 times herbal tea as mentioned above
2 Yoga sessions per day including yoga mat
Drinking water
Library of yoga literature
What's not included?
All transfers and transport to and from the centre
All excursions out of the centre including meals taken off-site
All personal expenses
Extra meals (available at an extra charge)
Laundry (available at an extra charge)
Extra Therapies (available at an extra charge)
Check out time 2 pm.