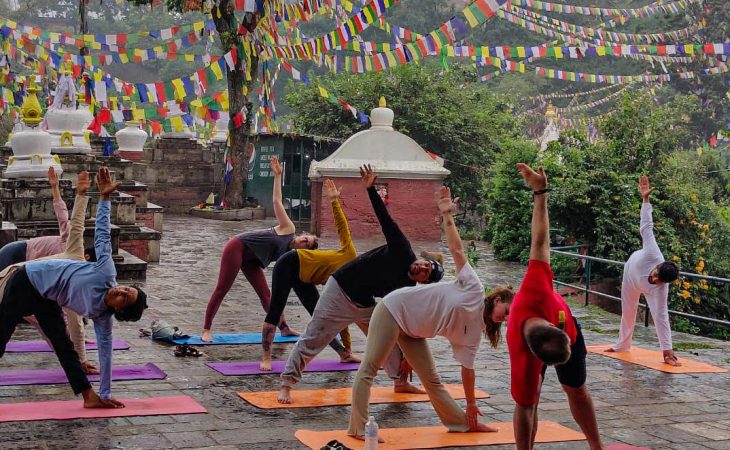 300 hr Yoga Teacher Training Course
  This Academy offers 300 hours of the first level of 300 Hour Yoga Teacher Training in Nepal with fundamental principles of Yoga Sciences, Philosophical Aspects, Yogic ethics problems based skills, Training skills, Workshops, Teaching methodology, Management skills, acknowledgment of responsibility, and Practicum in very original foundation. After this course, you will be 500 hours qualified teacher. So Join our Yoga Teacher Training (YTT) 300 Hrs – 24 Days
Prerequisites for Yoga Teacher Training
The Himalayan Yoga Academy 300 Hr Teacher Training program is designed for those students who have completed an approved 200 Hours of Teacher Training as designated by the Yoga Alliance, USA.
Yoga Course Objectives
Our goals are to:
✔ Offer inspiring, educational, and authentic yoga teachings to you no matter what your level of practice is.
✔Encourage you to deepen your love for yoga, and offer you the skills to get confident at teaching yoga safely with your own students.
✔ Build a positive learning environment in which you and all other like-minded yogis will thrive, and create long-lasting friendships.
✔ Welcome you to our international tribe where you and your fellow graduates will continue to grow and inspire each other for years to come.
✔We look forward to becoming an integral part of your yoga journey.
What You'll Leave With
An expansive outlook on life with positivity and light.
Authentic yoga knowledge in a yoga posture, alignment, history, and anatomy.
An established inner teaching voice sharing your wisdom with many others.
Mindfulness practice to embrace the present moment.
A confident voice to lead and inspire others to lead a more spiritual way of living.
Lasting friendships with like-minded souls from all over the world.
The experience of living in nature in beautiful Nepal, the land of the Himalayas
A career that you'll love and able to teach globally.
Why 24 Days 300 Hour Yoga Teacher Training ??
The course presents an in-depth study of Mantras, Asana (posture), Advanced Pranayama (breathing practices), Advanced Meditation, Yoga Philosophy, Yoga Anatomy, Prana, and the Energetic Body.  The course contains Advanced Sequencing and Adjustments, Developing a Personal Meditation Practice for yourself and others.  How to Develop a Meaningful Private Session and Workshop Program, as well as other essential tools to advance your career opportunities and your personal practice.
Day Schedules
06:00 am – Wake up and Ushapan (Early Drinking water)
06:30 - 07:00 am – Jala Neti (Nasal Cleansing) and Herbal Tea
07:00 - 08:45 am– Bhakti Yoga (Prayer/Chants), Warm up exercise, Suryanamaskar, Yogasana, Bandha, Pranayama, Shanty Path (Peace Mantra
09:00 - 10:00 am – Breakfast and Herbal Tea
10:00-11:00 pm- Yoga Class Theoretical& Practical 6 Days a week
01:00-02:00 pm- Vegetarian Lunch and Herbal Tea
02:00-03:00 pm - Library / Self-study
03:30-05:00 pm- Yoga Practical and Theoretical Class 6 Days a week
05:00 - 05:15 pm – Herbal Tea
05:15 - 06:45 pm – Bhakti Yoga (Prayer/Chants), Spinal Asana/ Suryanamaskar; Yoga-nidra, Mudra, Dhyana Yoga (Meditation)
07:00 - 07:30 pm – Dinner and Herbal Tea
07:30 - 08:30 pm – Bhakti Yoga (Prayer/Chants), Trataka (Concentrated Gaze) and Discussion
08:30 – 09:45 pm – Evening walk, Vajrasana, Self-study & Practice
10:00pm – Bed Time (Lights out)

Note
Sunday will be Weekend Day
One Day World Heritage Yoga Tour OR. Hiking
300 Hour Yoga Teacher Training Course (YTT) – 24 Days Training Cost
---
Private Accommodation - USD 1600 per person Double Sharing Accommodation - USD 1400 per person Triple Sharing Accommodation - USD per person
---
Note: If you are in Group, ask for special rates
6 months Early Booking, 5% Discounts for 2022/23 Year
What's included?
Accommodation; Attached Bathroom with Hot & Cold shower
Training Fees and Certificates
Towel and slippers
3 vegetarian or Vegan meals daily (Cultural Food on Festivals & Rituals)
Daily herbal tea as mentioned above, Drinking water
Library of yoga literature

Yoga Book-1, Notebook-1, Pen-1, Jalaneti pot-1
Full Day Hike / Sightseeing
Therapy
Volunteer teaching few hours a week in School as your interest
Airport Transfer (From Airport to HYA )
---
Course Dates:
Every Month 2023/24 ( Ask the School for the dates )
---