Nepal Singing Bowl Course
6 Feb 2023 HYN Himalayan Yoga Academy
Singing Bowls are also widely known as Tibetan Singing Bowls or Himalayan Bowls. In Asia in Tibet, India, and most of Nepal, it was used for its holistic powers and healing, deep relaxation, stress reduction, reiki, etc. They help provide essential aid to meditation and can be found on Buddhist altars, monasteries, and meditation houses worldwide. Nepal is home to the Himalayas and the birthplace of Gautam Buddha. Nepal Singing Bowl Courses are popular all over the world.
In our body According to neuroscience, our minds can function in five different states: beta, alpha, theta, delta, and gamma. Gamma is the highest and Beta is the lowest. During our daily activities, our minds are in the beta stage. During happy meditation, our minds rise to alpha, then Theta, Delta, and finally Gamma. Basically, all pressures and diseases manifest in beta states of consciousness. However, when we induce enhanced feelings and relaxation, we keep our bodies in an alpha state. As a result, our level of immunity rises. Then the healing process begins.
Scientific studies show that sound can produce changes in the autonomic, immune, endocrine, and neuropeptide systems. Dis-harmony within the body can be restructured by sound. That's why singing bowl training is so popular in Asia. The sounds from singing bowls are calming and induce a sense of peacefulness … it is a relaxation that goes beyond the physical body. The tones of each chakra bowl will permeate your system – resonating your essence – so that inner chaos, conflict, and dissonance seem almost immediately to be transformed into harmony.
What you will learn in Nepal Singing Bowl Course Level 1-
9 Singing Bowl-Purification & Relax
Balancing 4 Bowls Therapy
Middle-Path/ Sushmna Activation Therapy
Sensual Vibration & Meditation
Spinal and Lower Limbs Massage and Relaxation
Pregnancy Therapy
Active Awareness Third Eye & Crown Therapy [A]
Chakras Healing
Cleansing the Space
Group Healing – I
What you will learn in Nepal Singing bowl Course Level 2 – 
Beautiful Adornment – Beautiful Aura Ornamental
Middle-Path/Sushumna Activation Therapy
Solar Activation: Fearless, Doubtless and Determination
Agochar: Tenth Gate/Cosmic Channel Activation
Sound Massage and Relaxation
Chakras Healing and Meditation
Whole Body Resonance, Energy Balance & Meditation
Meditation with Singing Bowl
Silence Talk – mindfulness to mind blank – psychic balance
Chilled Forest – Willfulness
Group Healing and Meditation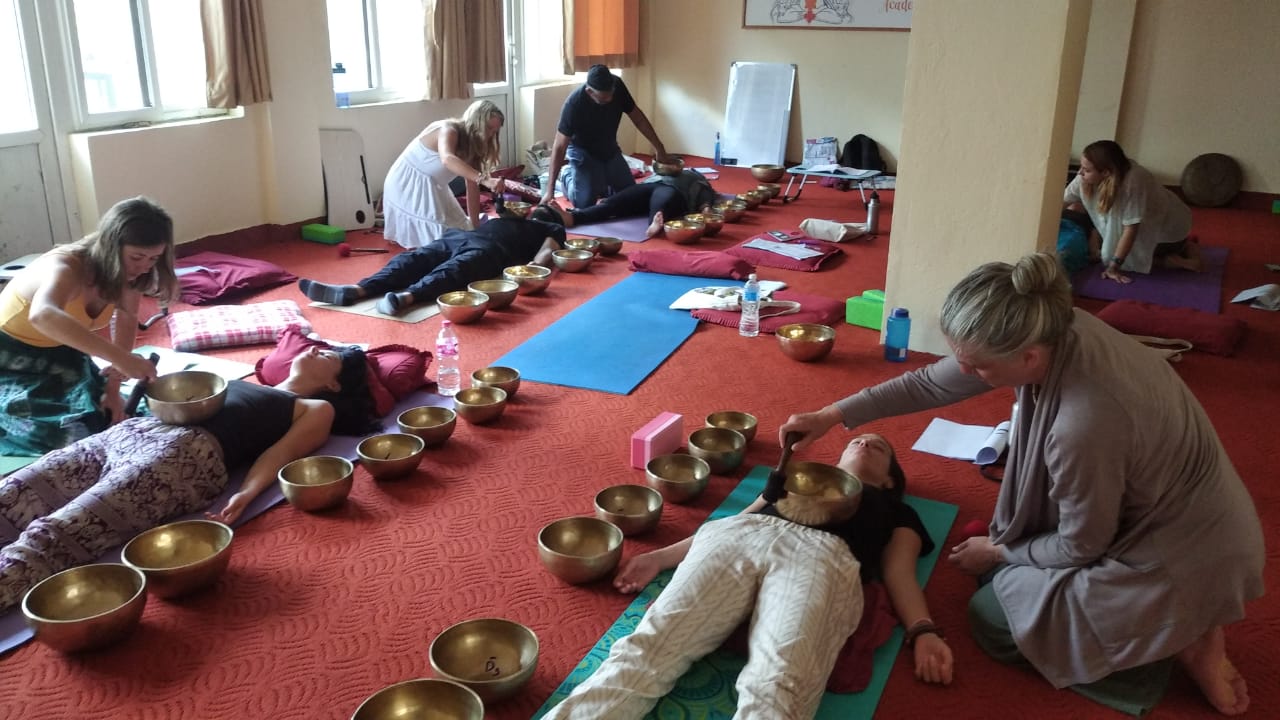 Singing Bowl Training Memories 2022