Monasteries in Nepal
19 Dec 2021 HYN Himalayan Yoga Academy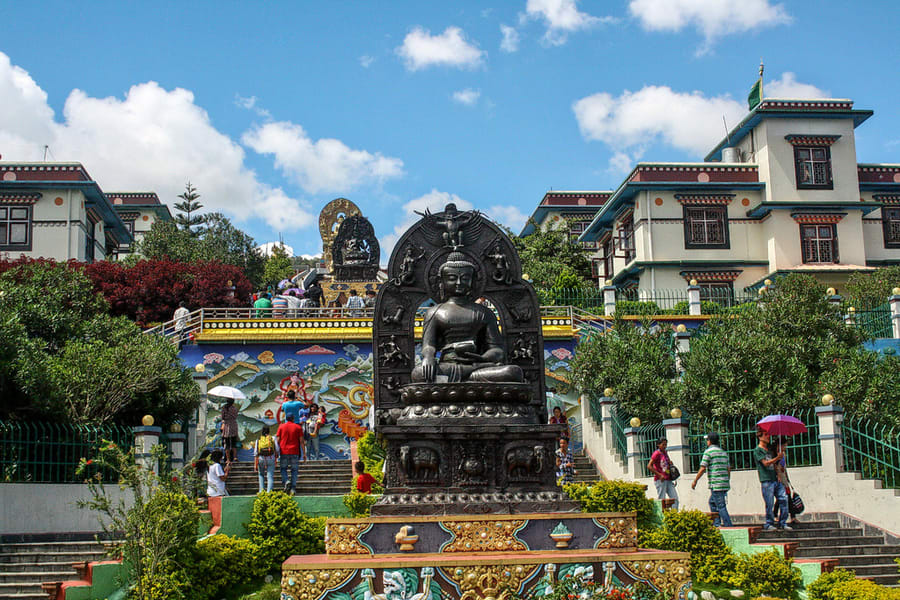 Nepal is country having majority of Hinduism and Buddhism resulting in numerous temples and monasteries found all around Nepal. A monastery is the building where monks live while they're practicing their religion. Also, Monastery can be said as place, building, or cave where a religious person or persons come to get a closer relationship with their god or gods. Nepal is the home of spirituality where you can explore lots of dimensions of the spiritual learning. You can explore yourself in Nepal through different views. Here are the list of various Monasteries in Nepal.
White Gumba
It is one of the best Buddhists monastery in Nepal located in the Nagarjuna municipality of Kathmandu district. It is a cultural site representing Tibetan architecture and culture. It is a monastery which is run by nuns and is open to the public on Saturdays. The spacious courtyard of the monastery features fountains, murals and statues. It has a breathtaking view of the sunset, sunrise and the whole Kathmandu valley. It is surrounded by lush green forest. The area around the white gumba is very peaceful and quite. One can visit there for meditation practices and also to relax and refresh your busy mind. One can also learn about Buddhism and their culture. Inside the white gumba , you can see the garden, the waterfalls, murals, paintings, the statues and the small monasteries inside it. This Gumba is beautifully constructed in a peaceful environment. The ancient architecture, natural beauties attracts many visitors. So the fascinating place to experience and acknowledge the Tibetan culture and practice.
Tengboche Monastery also known as Dawa Choling Gompa is a Tibetan Buddhist monastery, located in the Tengboche village in Khumjung in the khumbu region of eastern Nepal. This monastery lies inside the Sagarmatha National Park, one of the UNESCO world heritage sites in Nepal.
This monastery attracts pilgrims and trekkers as well who head towards Everest Base Camp every trekking session. Tengboche has a panoramic view of the Himalayas mountains, and famous peaks like Everest, Nuptse, Lhotse and many more.
Each year, the monastery celebrates a festival called Mani Rimdu Festival corresponding to the months of October- November. This is a festival of religious rites, songs, dances, and colours. So this delightful festival attracts the tourists and locals and they enjoy a lot.
Neydo Tashi Choeling Monastery
The Neydo Tashi Choeling monastery located in the peaceful area an hour drive from the hectic Kathmandu city. It was built for the preservation of the Neydo tradition. Here various ritual offerings, payers, Buddhist philosophy and so forth are taught on Tibetan literature to about 200 monks at the monastery. It is a ideal place to simply relax and get a short break form hustle and tussle of hectic life. You may also meditate and practice yoga with a beautiful nature view.
It is one of the largest and oldest monasteries near the great stupa of boudhanath and it is worth to visit. It represents Tibetan arts, paintings, sculptures so maintain the philosophical, artistic traditions of Tibetan monasteries. Over 300 monks live at this monastery where they receive complete education in addiction to the expenses like food, shelter, clothing and medical care. It teaches music, dance, painting and Buddhist philosophy. It is dedicated to preservation and continuation of Tibetan Buddhist spiritual and cultural heritage.
It is situated in the outskirts of the Kathmandu, near boudhanath. Hundreds of monks and nuns lives here and also offer meditation courses. It shows glimpse of ancient time great art and architecture. It is also the lovely and peaceful area to meditate and for praying lord. It makes us feel the positive vibes when you are in this monastery. You can learn and acknowledge the Buddhism culture in this peaceful environment. Guests are free to explore the religious community.
if you want to explore the life of a monk and also practice yoga and meditation in their daily schedule to find peace and calmness inside you.We have been doing this monastery retreat in beautiful monasteries where you can live with the monks and explore different life lessons with them.