Why Poonhill Yoga Trek in Nepal ?
2 Mar 2020 HYN Himalayan Yoga Academy
Ghorepani PoonHill Yoga Trek in Nepal is intrinsically known as Annapurna Sunrise or Annapurna Panorama which is one of the most popular treks among the trekkers and climbers that rambles among the beautiful natural scenarios and traditional villages of Annapurna Region in Myagdi district of Dhaulagiri zone in Nepal. The way through the Poon Hill trek assembles different rhododendron forests and beautiful natural views of mountains and Himalayas including Annapurna mountain range. The occupancy of terrace farming along with the greenery farmland accomplishes the photo shoot for the photographers. In addition, the views of Annapurna and Dhaulagiri ranges give the feeling of fulfillment of desire.
The Poon Hill Point provides you the huge combination of Himalayas including Annapurna I, Annapurna II, Annapurna III and Annapurna IV, Annapurna South, Lamjung Himal, Gangapurna and Manaslu ranges and others. The Gurung village of Ghandruk and cultural magnificence of Gurung Museum identifies the unique culture of Nepalese society. The views of waterfalls and the small village settlement give the thrilling experience for the photographers.
The trekking from Kathmandu to Poon Hill is the best to experience for the tourists that give you the perfect sight of the vision of different Himalayas and villages. You have different routes to travel from Kathmandu to Poon Hill. The Kathmandu to Poon Hill distance is around 271 km. You should go to different places to reach the Poon Hill. This makes the distance so long. But it gives you the best feeling along the tour. You need to travel to Pokhara to begin the journey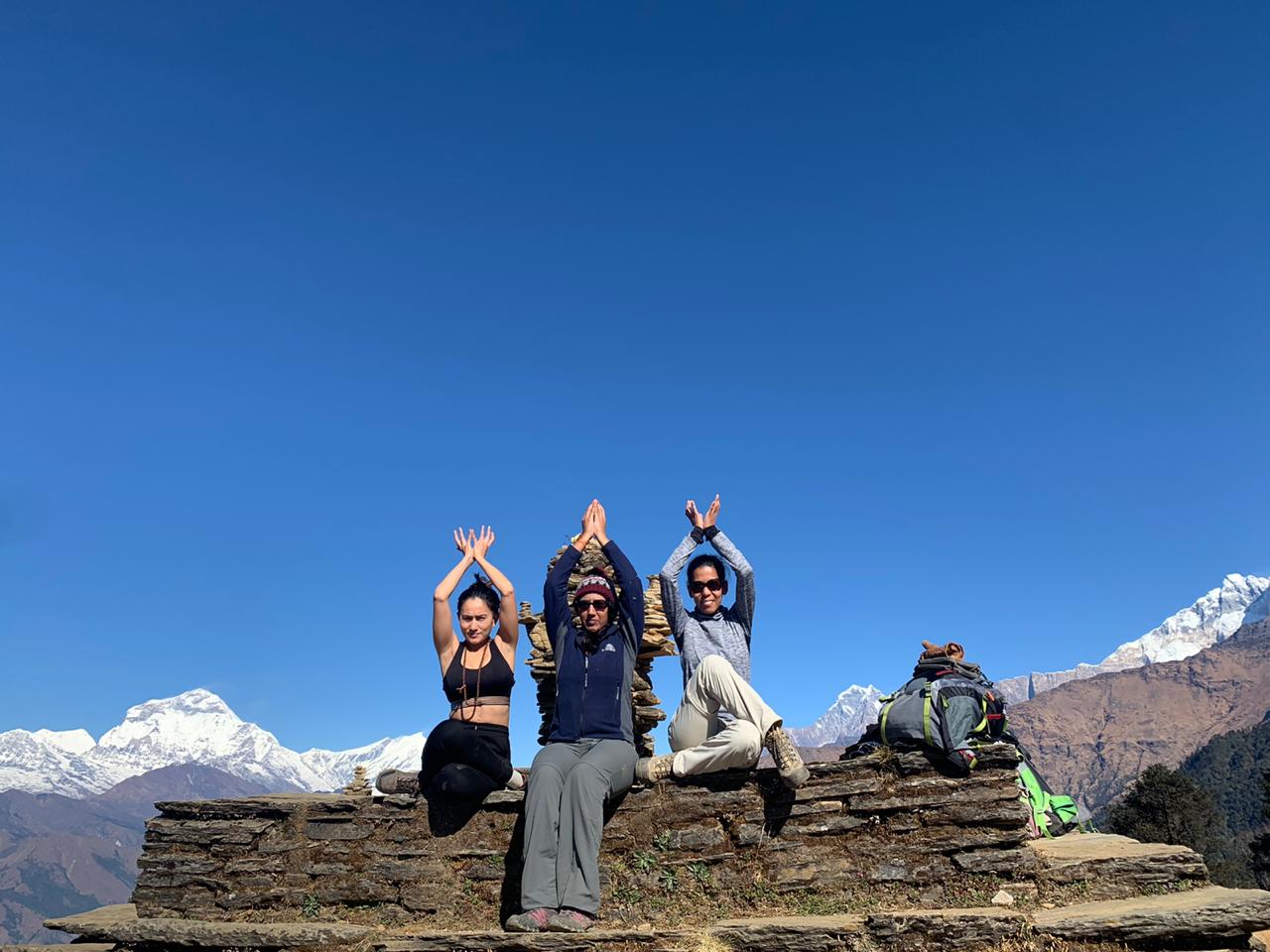 Why Yoga Trek in Ghorepani Poon Hill ?
Yoga sows a continuously positive vibe within us. There are several scientific and spiritual explanations in Yoga. The vibration or frequency of continuous repetition of words like OM and other mantra vibrates in the frequency that evokes the physical and the mental health positively. Positivity leads to overwhelm our Kleshas. Furthermore, Yoga brings us close to Mother Nature—the vital nature preserve for us. Yoga has a relationship with Panchatatva—the five elements: earth, air, water, fire, and sky, which are the precise foundations of our existence. Similarly, Trataka — where you concentrate on a specific pose at a single point of light— can help decrease the number of thoughts.
There are numerous benefits of yoga trekking to the physical, mental and psyche health, therefore yoga trekking is the most essential addition to your daily life. We have come to a stage of an era where stress is the most common word where mental, physical as well as emotional intelligence has depleted. To overcome that incorporation of Yoga trekking once in a year is the most.
Yoga helps cure those stressors inside your body and calms your body with care. When your body is in a calm state, you respond better and you'll be happier.