Why we offer Budget Yoga Teacher Training in Nepal?
24 May 2020 HYN Himalayan Yoga Academy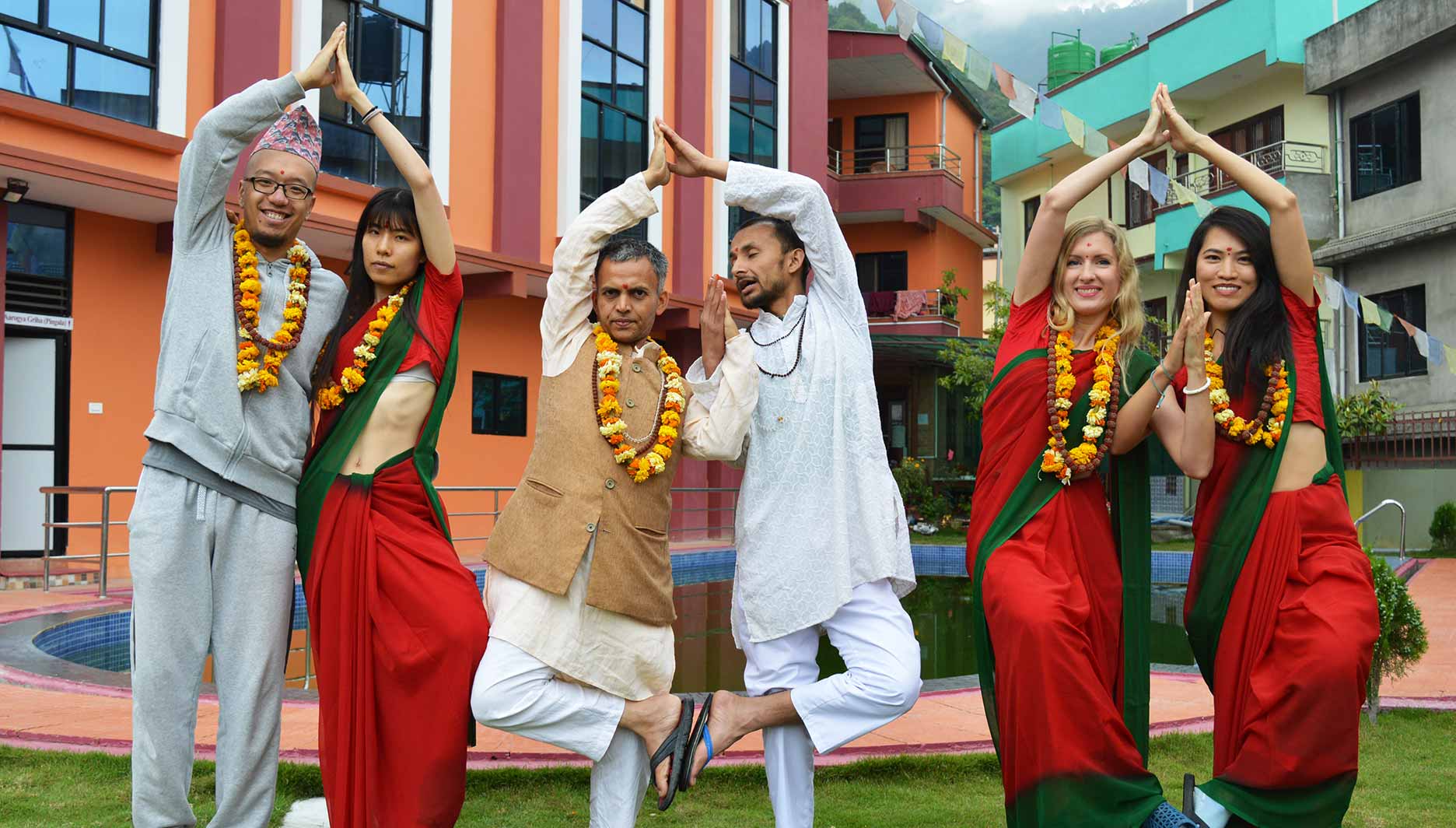 Yoga is the unification of entire being and cosmic self. It is very ancient science existed with the appearance of human being. It is a path, a code of human life, an art of living developed with the intrinsic need of body and the influence of natural phenomena. People were used to in practice (Tapa) and could empower and flourish themselves. Some of them got empowerment, optimum experience; true knowledge and path of truth that made reproduce theses sacred novels. Its history goes back more than 15,000, it was before vedic period.
This types of Sadhana called Japa and Tapasya had mostly done on base of Himalayas, bank of rivers, lap of jungle, triple-braid of rivers around Himalayas and hills and also the origin of all the sacred novels is Himavat kshetra (Himalayan Zone), was ownership by Nepal. Nepal, a country of Himalayas is the land of Shiva (Founder of Yoga), Land of Parvati (goddess of Shakti), Saptarishis, land of sages and seers, Yogis, Maharshi Kapil Muni (Samkhya Yoga), Buddha, Devi Sita, Maharshi Patanjali, King Janak (Great Yogi), Vyasa, Bhrikuti. This is the country of "Third Pole" i.e. Mount Everest.
Nepal is the beauty of ancient wisdom, eastern philosophy, culture and nature which is the favorable spot for spiritual and natural tourism. In the contest of these matters, Nepal will be the higher and ultimate destination for spiritual, cultural and natural tourism, even in the world. Nepal is the right and easier venue for Yoga Teacher Training nepal, Yoga Retreat, Sound healing and meditation, Yoga Tour and Travel. The currency of Nepal is cheaper, so it makes easier to stay here longer for any purposes like visit, training, and retreats in Nepal. We offer the budget packages reminding our ethics and responsibilities.
Few major causes behind offering budget yoga teacher training nepal are:
People from all over the world may visit such a historical, natural, spiritual, as well as such a memorable country with all the truths, not only the facts in the world.
The current pandemic crisis rises, globally suffering by covid-19 and now world is stopped and lockdown.
Financial crises arouse in world.
After this covid-19, the need of Yoga practice ascends very much to revitalize and build strong defense mechanism.
It's our big responsible to create awareness about literal Yoga science motive to merge eastern philosophy and modern technology.
Our main mission is to promote and spread Yogic philosophy beneficially in every nook and corner of the world.
Our Yoga Organization "Himalayan Yoga Academy" is the first commune to introduce this huge eastern wisdom institutionally in tourism fields among the people from all over the world. So it's our primary concern.
*We do provide the course in broad sense focusing philosophically, practically, and therapeutically with fundamentals ethics of yoga science in making family atmosphere.
*Our motto is to raise 'Responsibility, Understanding, Honesty and Humanity' with professional value add rather than business trade.
*Our fundamental motto is to make acknowledge to worldly people affordably about Yoga as a science of life which may bloom their life healthier, happier, harmonious, and more conscious.
We hope that this pandemic issue will get back in normal situation very soon and we come back and start our regular project. The worldly people will also be freeing from this crises and initiate their normal life.
We all together pray for peace and prosperity in the world.
AUM! Sharveshaam Svastirbhavatu;
Sharveshaam Shantirbhavatu!
Sharveshaam PoornamBhavatu;
Sharveshaam Mangalambhavatu!!