Can Yoga Save Our Schools, One Teacher at a Time?
14 Aug 2019 HYN Himalayan Yoga Academy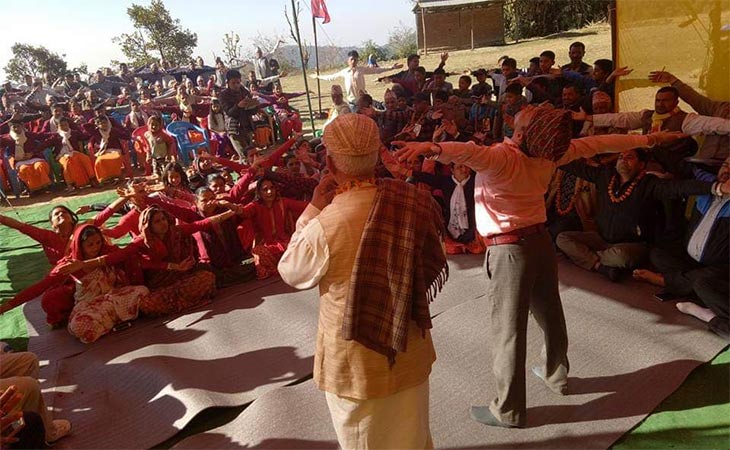 Could yoga save our schools? By giving teachers the tools to cope with the sometimes overwhelming stress of educating children, especially in under-resourced communities, Breathe For Change thinks it can. The organization launched last year by teachers for teachers is on a mission to reduce teacher stress and burnout through wellness practices like yoga and mindfulness, and they're already seeing encouraging results in communities across the nation.
"Teacher burnout is a huge problem in our country today," says Sam Levine, Director of Partnerships for Breathe For Change and a former teacher in the Washington, D.C. area. "Seventy-three percent of teachers report feeling extreme levels of physical, mental, and emotional stress, yet our current education system is not prioritizing their well-being. As a result, teachers are leaving the profession in droves, with some studies estimating that 50 percent leave in the first five years. Many who do stay in the profession become burned out, which research shows has a significant negative impact on student learning. If we want to sustainably improve our education system, we need to focus on the health and well-being of our teachers."
Breathe For Change's founder, Dr. Ilana Nankin, was a pre-K teacher herself at a low-income Spanish dual-immersion elementary school in San Francisco when she found yoga to help her deal with the daily stresses she faced as a new teacher. She began to implement mind-body practices in her classroom, creating a peace corner in her room and leading group breathing exercises during transitions. Students became incredibly engaged and better able to focus their minds and regulate their emotions, she says. "My students would always ask, 'When is yoga time?'" Nankin recalls. "And as soon as we practiced our mindful movement, my students would calm down and focus in ways that seemed impossible before."
Inspired, Nankin went back to school at the University of Wisconsin's School of Education to pursue her doctorate in Curriculum and Instruction. While conducting research for her dissertation, she realized how prevalent the issue of teacher stress and burnout is — and how much it negatively impacts teaching and learning. "I think my 4-year-old pre-k superstar, Patrick, put it best," Nankin says. "He once told me, 'In a community, first you have to love yourself. Because if you don't love yourself, you can't love anybody else.'" Through Breathe For Change, Nankin has now made it her life's mission to ensure that teachers everywhere are supported in taking care of themselves, so that they can provide the best possible education for their students.
How to Get Certified: Yoga Save Our Schools