Top 7 Health Benefits of Giloy
11 Jan 2020 HYN Himalayan Yoga Academy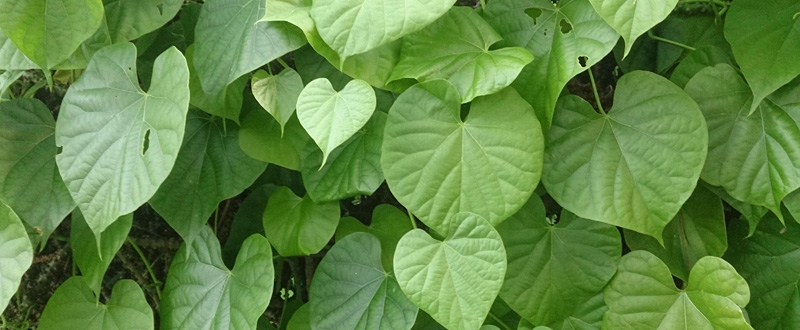 "Giloy scientifically named as Tinospora Cordifolia is an Ayurvedic herb that has been used and advocated in Indian medicine for ages", says Delhi-based Nutritionist Anshul Jaibharat. In Sanskrit, Giloy is known as 'Amrita', which literally translates to 'the root of immortality', because of its abundant medicinal properties. "The stem of Giloy is of maximum utility, but the root can also be used. Its uses and benefits have even been approved by the FDA (Food and Drug Administration)", adds Nutritionist Anshul Jaibharat. Dr. Ashutosh Gautam, Baidyanath adds, "Giloy can be consumed in the form of juice, powder or capsules". Know the Health Benefits of Giloy.
Giloy used for various purposes, majorly for treating ailments or preventing diseases. This wonder herb is used along with castor oil, ginger, sugar, ghee, and jaggery to treat various issues like gout, rheumatoid arthritis, skin, liver-related issues, arthritis, and constipation.
Health Benefits of Giloy
1. Boosts Immunity
Due to its ability to boost the immune system, the herb works like a rejuvenating element and contains antioxidants that cure and prevent dangerous ailments. This herb helps to eliminate toxins from the liver and kidney, fight bacteria and combat Urinary Tract Infection.
2. Treats Chronic Fever
Giloy helps get rid of recurrent fevers. Since Giloy is anti-pyretic in nature, it can reduce signs and symptoms of several life threatening conditions like Dengue, Swine Flu and Malaria as well.
3. Reduces Signs of Aging
With no any doubt, Giloy can be considered queen of all herbs and is extremely beneficial to treat signs of aging. Guduchi contains anti-aging properties that remove dark spots, wrinkles, fine lines, uneven skin tone and keep the skin clear, glowing, and bright. There are many Giloy based Ayurvedic face packs to try.
4. Improves Digestion
Giloy is very beneficial in improving digestion and treating bowel related issues. It helps with aches, gas, bloating, indigestion, and also helps patients with piles.
5. Effective for Diabetics
Giloy is an amazing herb for someone who is suffering from diabetes, as the herb acts as a hypoglycemic agent. Giloy juice helps reduce high levels of blood sugar and works wonders.
6. Treats Arthritis
Giloy contains anti-inflammatory and anti-arthritic properties that help treat arthritis and its several symptoms. It takes care of arthritis, joint pain, swelling, redness, and several symptoms related to it.
Home Remedies of Giloy
Boil some Giloy in water and let it cool down. Then apply over the eyelid for clearer vision.
Drinking Giloy juice reduces the high level of blood sugar.
Take a little extract of Giloy and mix with honey to treat malaria fever.
Take ½ gram Giloy powder with some amla juice to treat digestive issues.
Giloy juice with buttermilk also helps people suffering from piles.