NATIONAL YOGA DAY – NEPAL
9 Jan 2021 HYN Himalayan Yoga Academy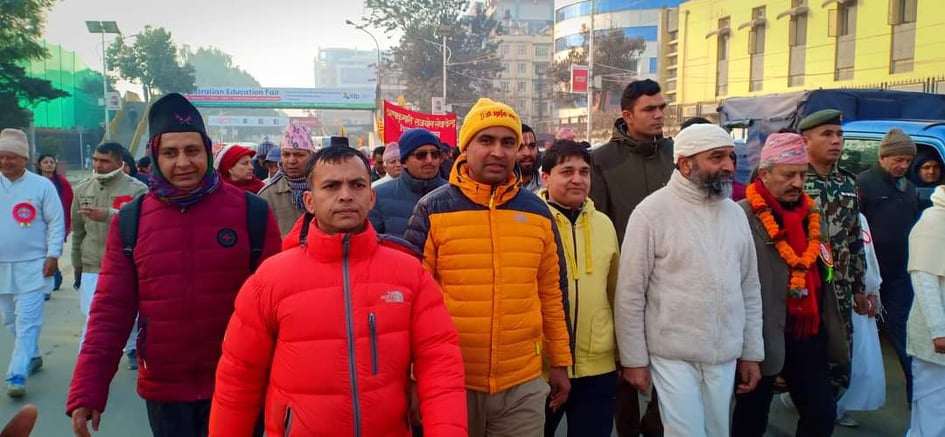 INITIATION
National Yoga Day is celebrated every year on the day of Maghe Sankranti (Magh-1), following a Cabinet decision on 28, Shrawan, 2072 (13 August 2015). The National Day of Yoga has been being marked by organizing a rally and finally big gathering at National Academy or different venues decided by Cabinet of Nepal. The credit of the initiation of National Day of Yoga and also the programme of every Year goes to Former Minister of Education, Science and Education Giriraj Mani Pokhrel.  Every Year Magha 1st, we celebrate National Yoga Day with the different programs of meeting and practice as well.  Discourses and discussion on Yoga would be organized to observe the Day.
Introduction
Yoga is an ancient science obtained throughout the physical, mental and spiritual practices developed by Lord Shiva and promoted by different sages and seers. Later the practice was followed by other religious gurus and leaders. People have been practicing Yoga formally, informally and non-formally since thousands of Years.  It was originated in Himvat Kshetra (Himalayan Areas) around the country of Himalayas, Nepal.
According to Sanskrit literature, the literal meaning of Yog or Yoga is 'to join' or 'unite', which symbolises the union of body, energy, mind and consciousness. Last year's yoga day was celebrated with theme 'National Unity: Relevance of Yoga'.
Development
Though yoga is getting popularity all over the world and promoted everywhere and also every nook & corner of the Country through public efforts. Tribhuvan University, the first University in Nepal has already started the Academic course of Post Graduate Diploma in Yoga Science since 2019 and recently passed the Master Degree Course in 2020 as well. The government is preparing to include Yoga in school education and has already developed its curriculum in classes of 9, 10, 11, and 12.
Every Year, the MoEST has been corresponding with all the 753 local levels and the 77 District Coordination Committee through the Ministry of Federal Affairs and General Administration to celebrate the Day with special programs. The Yoga Day has been observed in the country to raise awareness on the aesthetic discipline as Yoga and to encourage people to practice it regularly in their daily lives.
Role of Institutions & Yogins
Nepalese Yoga Guru including Yogi Hari Prasad Pokharel asserted that the Nepal could be developed as the spot for yoga and all initiators added that Nepal should be the "YOGA GURU" of the world.  We further pointed that Yoga which was developed in between the Himawatkhanda and Manaskhanda of Nepal and thousands of foreigners were coming Nepal to learn yoga. Yogacharya Subodh Simkhada introduced Yoga and spiritualism first time in Nepal for foreigners since 1997. Yoga Himalayan Yoga Academy is now institutionally providing international levels Yoga Trainings with motive to fuse our eastern wisdom and modern lifestyle continuously since 2007.  According to him, around 20 Yoga Schools in Nepal have been imparting lessons on yoga to foreigners and more than around 500 Yoga centers are working in public levels. We can't forget these personalities like Late Kashinath Upadhyaya, Yogacharya Surya Bahadur Karki, Yogi Hari Prasad Pokharel, Swami Osho Pathik, Yogacharya Kshitij Barakoti, Yogi Laxmi Kanta Pandey in Yogic History of Nepal.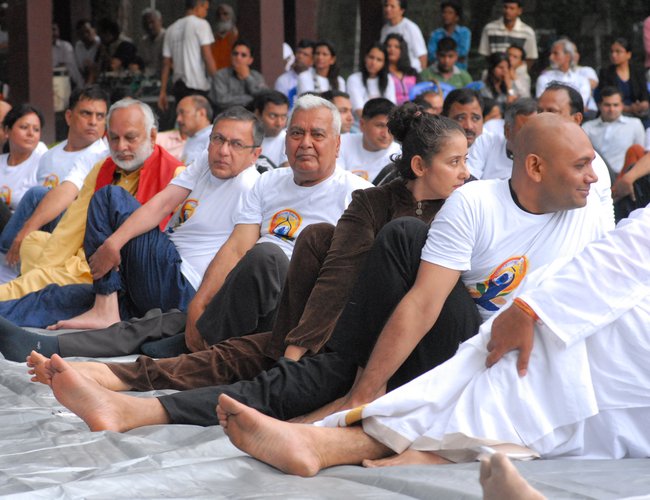 We informed to News Agency (RSS) that plans were afoot to extend the program to other Gurukuls and schools in the country. Similarly, Nepalese Association of Master's in Yogic Science (NAMYS), The Paatanjal Yoga, the Patanjali Yog Peeth , Brahmakumari Rajyog Service Center, Art of living, Tapoban, Oshodhara, Shri Arvinda Ashram, Shanti Ashram, Yoga & Naturopathy Hospitals, and other Yoga International Yoga schools including Himalayan Yoga Academy www.himalayanyoganepal.com  have been been offering classes on yoga in all districts in the country and out of country as well. Pashupati Area Development Trust (PADT) was also preparing to develop Pashupati area as a conducive place for yoga. Mahatma Sushil has started imparting Pashupat Yoga at the Pancha Debal in front of the northern main gate of the Pashupatinath Temple every morning. The training on yoga which has been conducted in aid of the Trust would be expanded across the country, according to the PADT.
Coming Yoga Day
This year Magha 1st, 2077 (14-01-2021), we have made the decision to celebrate National Yoga Day with different programs both virtual and offline. Nepal government has made the programme schedules in morning in Baluwataar , in Residence of Prime Minister and evening  4:30 to 6:30 Dhyan Yoga Arogya Sadhana Nepal has organized the virtual Seminar.  On the occasion of National Yoga Day, Former prime Ministers, Ministers, others Yoga Gurus and also Our Yoga Guru Yogachara Subodh Simkhada will present the need of Yoga, importance of YOGA DAY and also appropriateness of Dhyan Yoga Arogya Sadhana Nepal.
नेपाल सरकारले यस वर्षको नारा निर्धारण गरेको छ। "गरौ योग डटेर, कोभिड जान्छ हटेर "
The Government of Nepal has set this year's slogan. "Let's do yoga, Kovid goes away".
Conclusion
Yoga is only one option to fight any ailments, or any mirobes by boosting immune system. It enlihtens the people how to live being healthy, happy, and also being more conscious. So We kept our Yoga Academy open in whole Lock down Period. Many people are being benefited from this class and through our all postes in social medias and onlines articles derectly and indirectly. We would like to request all of you , pleaese keep it up. All the best.
HAPPY NATIONAL DAY OF YOGA TO ALL BELOVED SOULS