A Journey Towards the Beginning : A Yoga Teacher Blog |
4 Jan 2020 HYN Himalayan Yoga Academy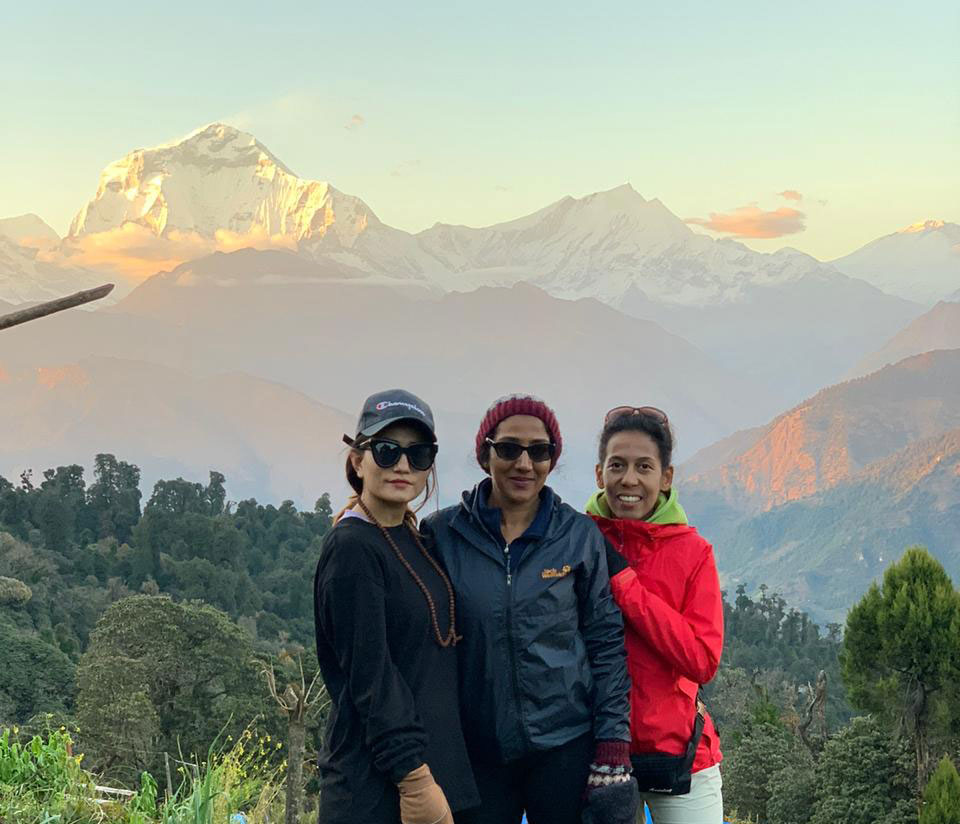 Being a professional yoga teacher and practitioner gave wings to my passion and dedication, I could feel the sense of dignity for the work. I did and made path what I choose from then I have never thought to look back or take a twist. My life has become full on yogic path and I feel oneness.Trekking are full of adventures and memories yet yoga treks are more of it. Yoga trekking as a yoga teacher is more exciting. 6-8 hours of walk to mountain trails was extreme fun and I felt it more intense to walk with my guest.I had to be in full on energy to send the better vibes in tough roads of mountains. Further about Ghorepani Poonhill Trek Blog
Poonhill is really a magnetic and magnificent place and a must go place to see the beauty of "Bramhamurata" the dawn of the day and intense beauty of sunrise from altitude of 3210 m. The Annapurna range is worth watching from here.And the early yoga practice here in touch with purest form of nature is intense and progressive. Mind simply gets meditative, and in aasana practice body and mind perfectly coordinate and blend with the nature; sense of stillness simply happens.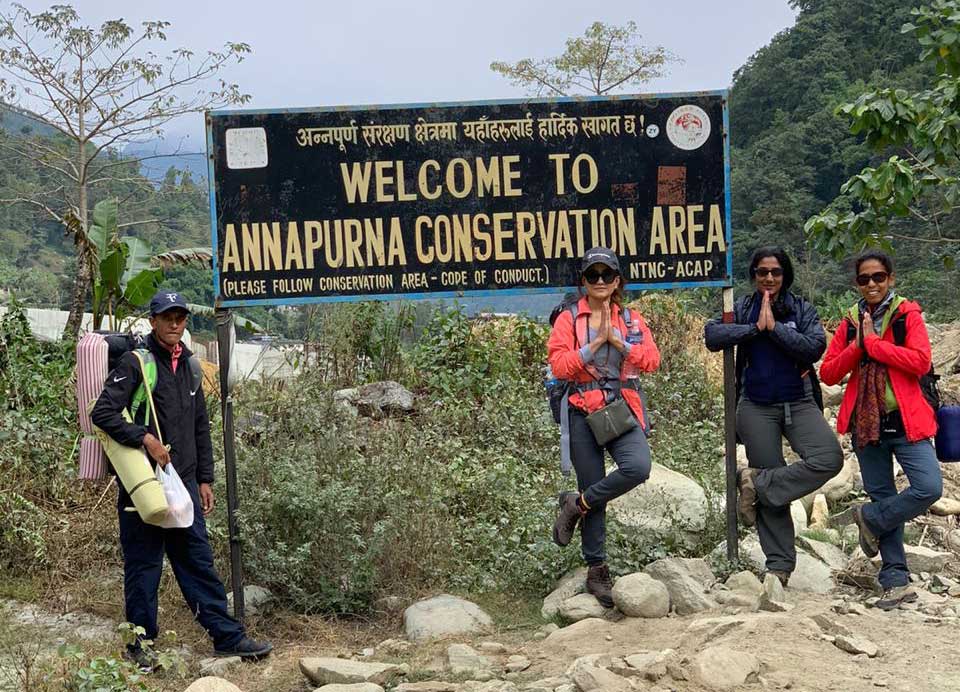 Our trekking began from Nayapul and then lasted till 6 days, we covered Hile, Ulleri, Ghorepani, Poon hill sunrise, Tadapani, Ghandruk finally at Pokhara where we stayed in visitors Inn. Around 136 km of walk;my longest yoga trekking I have been to and there were few challenges and lots of fun to keep in my memory pocket. Being a yoga teacher what I learned was intense cold temperature and average walk of 6 hours; early morning or in evening, facilitating yoga guests involving them in yoga sessions; specially in winter might be tough.The only thing that works in that situation is your passion and dedication to teach yoga in freezing cold of Mountains and Himalayas; wake up take cold shower and wake your yoga children up, pamper them with love and drag them to yoga sessions.This was how I managed yoga sessions during a tiresome trek, long and steppy walks, ups and downs.Yoga was my fuel. As a yoga teacher it was a great learning experience to me and I would love to have more of it. Yoga sessions was my part of job and I would be dedicated to it for I had consciously decided to be one and I say it again no looking back even if I freez because after fun sessions whole day feels warmer and even cold shower becomes your buddy.Yoga Nindra session in evening at our 1 day stay guest home was fun, it would release restlessness and physical pain,meditation fueled enthusiasm and feeling of self withn us.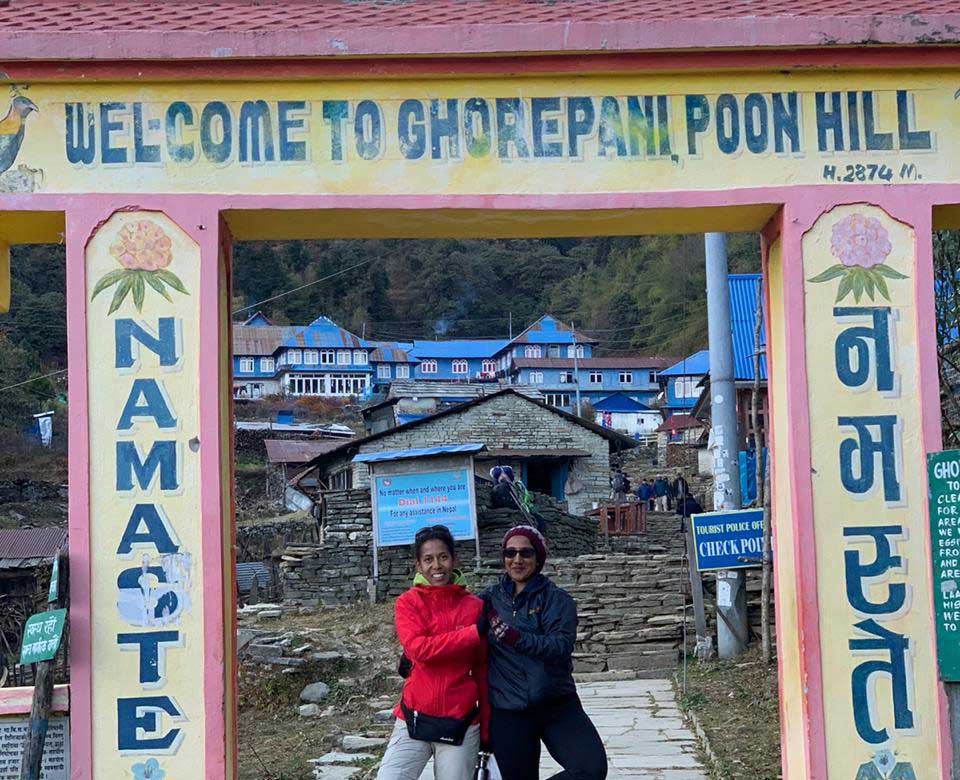 Ghorepani 2874 m, is simply magical. I would like to be lost in this kind of place for a month like "lost in mountains" kind of vibe. The mountains were so near to eyes, it literally felt like I wanted to introduce myself to them and ask their introduction. They seem overwhelmingly beautiful may be I was too emotional or what not because I openly say I am one of em'. Annapurna 8091 m, fish tail 6993m, Dhaulagiri range, the hills, pine forest, sky,eagles, spring,grasses,rocks everything seemed beautiful and beautiful human too."Snow View Lodge and Resturant" this place got so memorable to us; 3rd day of walk, tough uphill treak well that pain released as the had wonderful hot shower service and also their apple pie, americano and vegetable soup is simply awesome.The taste was marvelous, I could only say so because the moment and weather and mountains brought the taste in it.

Day-4 tadapani, Chill place to perform yoga sessions, very meditative place; if someone misses the sunrise from poon hill(3210), they can see the same canvas of mountains and sunrise, so chill and if overslept at Ghorepani you will still catch it on tatdapani.
Ghandruk was downhill and easy walk, tea garden was eye catching and food as always full of love everywhere.We were in lots of fun because the mission poon hill felt easily accomplished, yoga and meditation and walk and treks and pains and funs started and we were beautifully ending it at pokhara.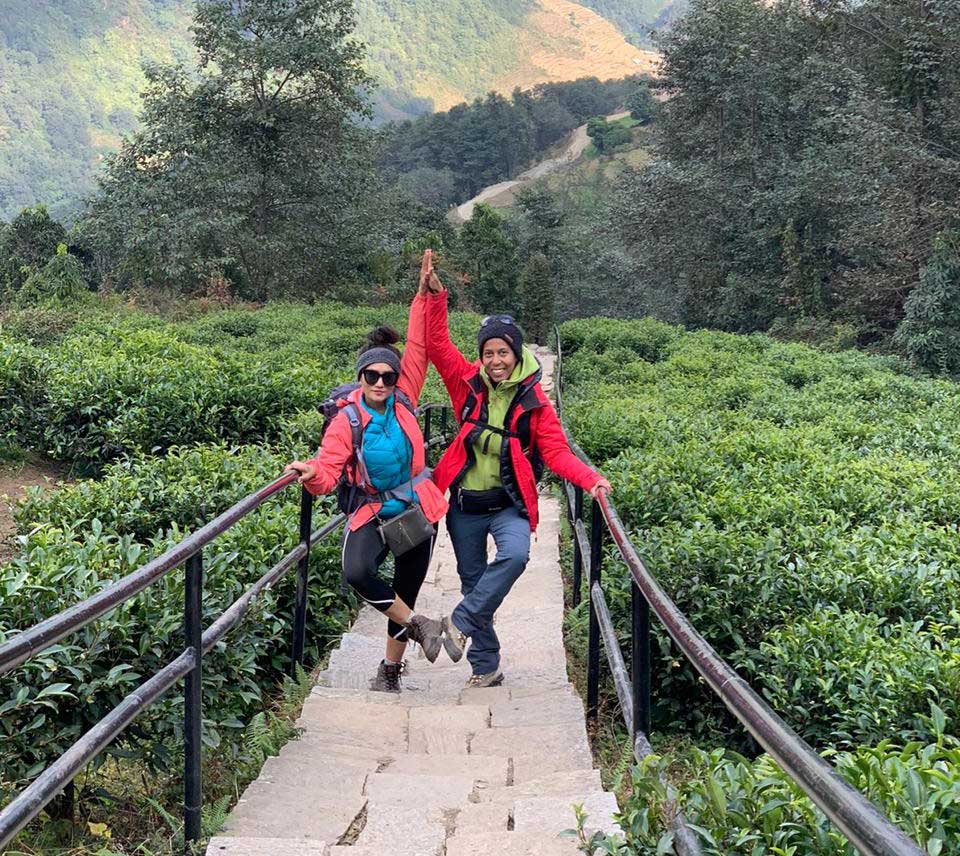 Day 6 Pokhara, back to the hotel. Cleaning up some left tiredness but as far I feel we were cool, me,our guide,guest every one.Less tireing as yoga nidra, meditation and asana actually make a great friend when you are trekking, they recharged us every spiritually, mentally and physically to stick on the trekking journey with posative and tireless enthusiasm."Journey begins and journey ends, some continue for next second,some for next minute,next hour,next day,may be next life eventually every journey ends only to begin again;being conscious about the journey as a whole is one big realization about self".