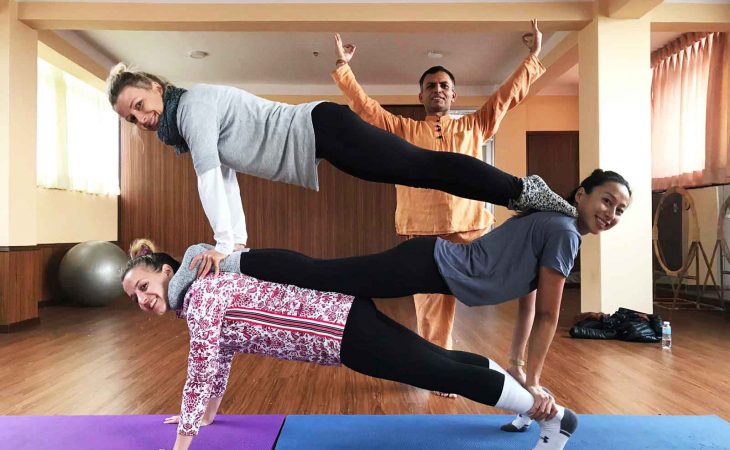 Why World's Innovative Himalayan 200 Hr Online Yoga Teacher Training
International 200 hour Yoga Alliance certification
Our yoga instructor certification courses are of outstanding quality, very literal, marked by excellence and attention to detail.
The training is not only suitable for aspiring yoga teachers but also for those who simply want to learn more about yoga and develop a stronger self-practice
200-hour advanced virtual yoga teacher training
On-demand training released every week
Private training accountability group
Weekly live Zoom training calls
Live online sessions will be held over Zoom
Online sessions' time zone: UTC or London time
Yoga Styles: Traditional Hatha & Ashtanga, Yin, Mantra, Bhakti, Karma, Jnana, Dhyana
Study Materials through Google Classroom
A 200 HOUR ONLINE YTT
Yoga is an intimate science of human life all over the world and becoming ethical and natural path of balance life as well as other acts like a food, job, entertain, and sleep. As the contest of technology and other common circumstances in daily life, it approaches through online media. So we would like to mediate the online courses in Yoga science. Yoga Alliance, has now endorsed online training programmes for inquisitives,  yoga lovers, practitioners, and we will offer our 200 Hr Online Yoga Teacher Training, starting on 1st of each Month, 2020.
You can take this Online Yoga Teacher Training based on real time or at your own pace that suits your schedule from 3 weeks and extend it as you like. Due to time difference between Nepal and the rest of world, we will manage the time alternately focusing east and west as well.
At Your Resolve
Latest by then you realize how wonderful it is to have access to class materials and lectures from the comfort of your home or mobile phone, so you can watch and replay them anytime you want. This is precisely what you will be able to do upon completion of this training. The certification will be exactly the same as you would receive if you were to do the course in-person and you will be qualified to teach yoga both online and offline.
Personalized 
Most Classes will be taught through live online sessions, while others have been recorded and will be offered through an online course platform, allowing you to access those sessions even at a later point in time. In any case this is the most personal, high-touch, interactive yoga course online.First we do introduction session on the content given in syllabus and provide the short videos, then after few days we do review, interaction and feedback session.We will do keep moderator through online to connect with you
How the 200 Hr Online Yoga Teacher Training works : 
This Online Yoga Teacher Training will be held online via Zoom. Kindly make sure you have a webcam or smart phone with a camera. You can use your iPad or other mobile devices to complete this training. You will have live training option with others for certain classes, all of the core training and learning material will be available on-demand. You will be able to access your courses on any of your mobile devices, desktop, or laptop. You can take this course based on real time or at your own pace that suits your schedule from 4 weeks and extends it as you like.
Certifications :
Students who complete this Online Yoga Teacher Training are eligible to register with Yoga Alliance as Registered Yoga Teachers (RYT®).​
Contact Hours: 80 Hours
Class Schedule: Saturday and Sunday Regular (two session) and Rest Days Alternately
Non-Contact Hour – 120 Hour
Class Time: Choose One Time AM OR PM
09:00 am to 11:00 (Nepali Time);             OR         18:00 To 20:00  (Nepali Time)
Next Upcoming Dates : 
( Jan - Dec, 2022 ) Running in All Upcoming Months of 2022
Day Schedules
120 MINUTES YOGA CAPSULE
30 Minutes (Theory) – Fundamentals, History, & Schools of Yoga and Body Science
90 Minutes (Practice)
Shatakarma; Prayer & Warm up 10 min
Dynamic & T.T.K.H.P7 min
Surya namaskar :8 min (6 cycles)
Aasanas : 25 min
Agnisaara, Bandha, Mudra : 10 min
Pranayama : 15 min
Yoga Nidra or, Dhyana : 15 min
Please note that all classes are recorded. If you cannot attend or if it is too late in your time zone, classes can be made up, as you will be able to watch the recorded classes when convenient for you.
There will be live Q&A sessions for questions regarding theory or practice, which you can send by email to Ganga and they will be addressed at the time of the live Q&A sessions.
In addition, those lectures that you have not completed by the 30th of July, you will have a chance to complete adding few more days and ongoing.
During the course you will receive assignments which will be either in the form of written homework, photo or video or practice.
World's Innovative Himalayan 200 Hr Online Yoga Teacher Training Training Cost
---
Private Accommodation - USD 666 per person
Sharing Accommodation - USD 666 per person
---
Note: If you are in Group, ask for special rates
---