Why Should You Do Your Yoga Teacher Training In Nepal?
10 Mar 2021 HYN Himalayan Yoga Academy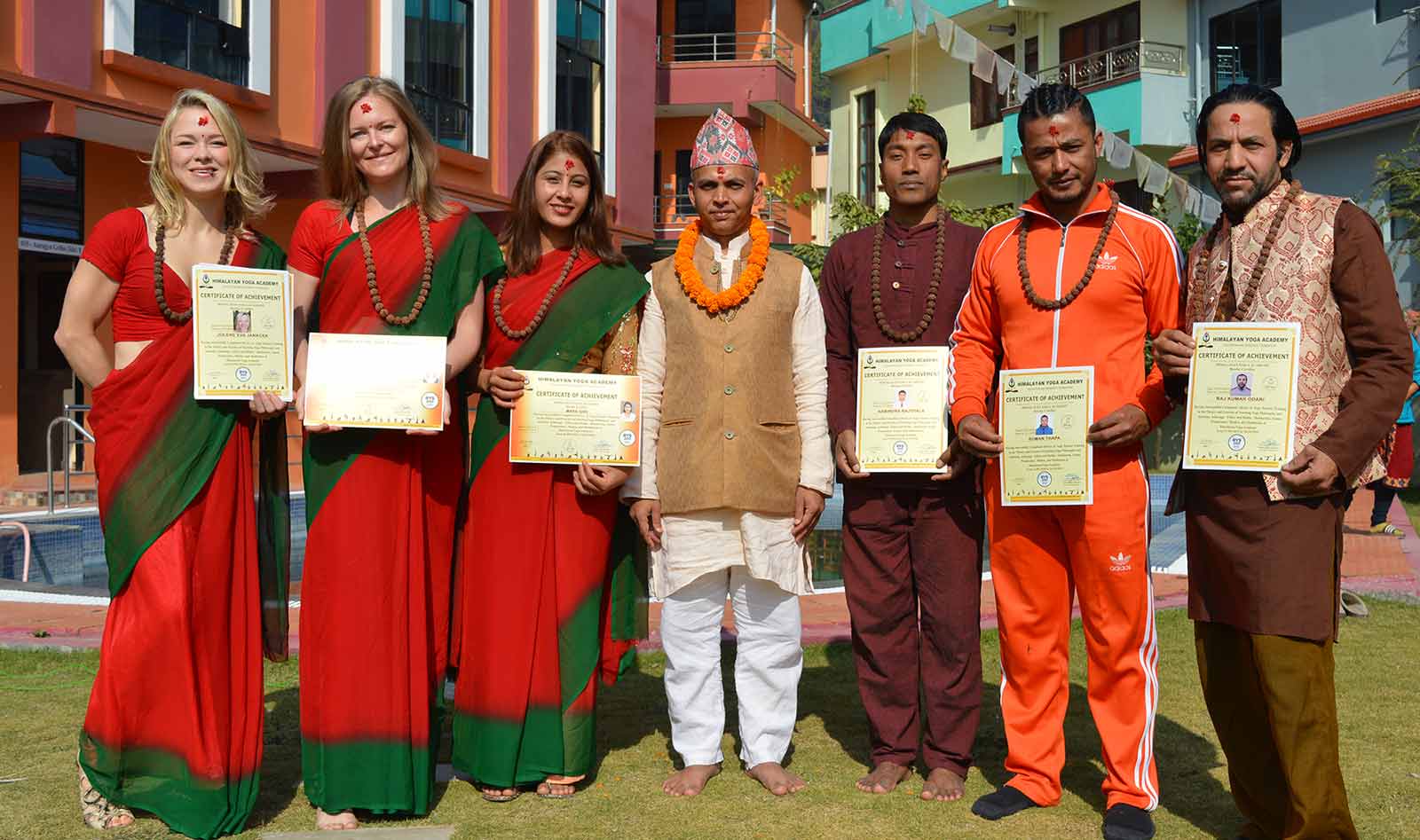 Why Should You Do Your Yoga Teacher Training In Nepal?
Today Moment:
With the yoga industry booming around the globe, the market is saturated with yoga studios and teacher training courses in every nook and corner of the world. So why should one bother traveling all the way to Nepal, the country of Himalayas to learn and practice yoga in high altitude when one could just as well do it from home commune?Learn why Nepal for Yoga Teacher Training In Nepal
Why Yoga In Nepal?
Nepal is the birthplace of Yoga throughout the Shiva civilization since more than 15000 years ago, Nepal offers a good sense and a unique opportunity to live, breathe and feel true yoga. Nowadays, the real meaning of yoga has been lost in translation and pronunciation and saying Yogaa, and also saying yogaa and Meditation something like this, sometimes even to the point that it becomes a purely physical training where everyone wants to push their bodies to unnatural limits and innocently damaging their system, health and life.
If you want to learn something, it's usually best to go directly to the source than learning through the vine of nature and culture. In India, there are many teachers who are well-versed in the Samkhya Yoga, Yoga Darshan, Bhagavad Gita, Gorkksha Samhita and other philosophical and sacred texts.
Ultimate Truth :
Yoga is a holistic practice for integration that includes all aspects of life, including diet as well as the study of philosophy. The focus is not only about being healthy and fit; it's also about how you live being healthier, happier and more conscious. This is where philosophy comes in. It helps us not only find out who we are but also how to relate to others and live life to the fullest range and yoga off the mat.
It's difficult to pinpoint exactly how the whole phenomenon of yoga differs in Nepal. After all, yoga originated there, but how many people there actually have a solid asana practice? However, although they do not practice asana, you can feel the yogic culture everywhere. The people in Nepal and India are not what you would typically label 'wealthy', but they have big hearts and truly embody the concept of yoga. You will start learning yoga the moment you leave the airport! Yoga begins when course is over.
One of the biggest pros of doing yoga teacher training in nepal is that it costs much less compared to other parts of the world. In addition, you also get food and boarding for a whole month, which makes it even more worthwhile. You will be throughout the beauty of nature and cultures fully surround and oxygenate you.
Things to Consider Before Doing Your Yoga Teacher Training in Nepal
Nepal is a country of extremes. You either love it or hate it – there's no in-between.Nepal is organized chaos. It can get very crowded in certain parts of the country..
1. Your meet will be at the origin place, zone of Himalayas (Himavat Kshetra) of Yoga.
Nepal is the place where yoga originally comes from. So when you go to Nepal, you will actually learn about yoga from the source, on lap of Himalayas. The foundations of yoga are thought to date back for at least 15000 years. Teachings on yoga first appeared in the Vedas, ancient philosophical texts, and later in the Upanishads, and the Bhagavad Gita. Later, more extensive descriptions were recorded in different Darshanas like Samkhya Yoga, Yoga Darshana and Vedanta etc. In contrast, it is only about 200 years ago that yoga was introduced in the modern society since 1893.
2. Teachings under Academic experts
Teachings under Academic experts based on scientific, clinical, and philosophical footings, not only under Yoga Instructors of 200 and 500 hours. So you feel the real stream of yoga, and realize the core of Yoga essence.
3. You will experience the family life with Nepali cultures and traditions.
When choosing Nepal as your destination for your yoga teacher training, you will most likely live in yoga school for at least a month and more. Living in a school or Academy is a unique experience, helping you to dive deeper into your training. A school is a residential school, a place that is solely focused on learning and experiments. Living in school also means you will stick to a structured and disciplined program with sophisticated livings, based on the yogic lifestyle.
4. You will develop discipline and intellects to reach your goals
Nepal is well-known for a strict and result-driven educational system. Discipline and schoolings are therefore important ingredients during a yoga teacher training at a school in Nepal. The schedules of school will help you to fully focus on your learning process. There is hardly any distraction, as you are away from home and not connected to the internet whole time as need. A 200 hour yoga teacher training of 4 weeks and 300 hours of 5 weeks can be intense, but with no other obligations or activities, you will be able to learn much more than you could ever imagine. The structure of the program will enable you to learn and practice in a dedicated way.
5. You will meet like-minded people from all over the world
As Nepal is a popular destination for following a yoga teacher training, you will find yourself in an international group. People from all over the world usually travel to Nepal with different perspectives on life like Yoga and spiritualism; Agro-yoga; Cultural Yoga, Volunteering in schools and organizations, Trekking, pilgrimage tours. As you study and live together, it is mind-opening to exchange ideas and experiences. This international character not only enriches the teacher training experience, you will also build new friendships that might last for the rest of your life.
6. You will start an ongoing process of self-development and self transformation.
For many people, a yoga teacher training signifies a change in their life. It might be the start of a new beginning or a dream coming true. It could also simply mark the choice to finally start following your heart. The teachings of yoga in Nepal help you to reflect and spark an ongoing process of self-development and self-transformation. What is meant exactly by the 'Self' is at the core of yoga. You will definitely learn more about this question in a yoga teacher training in Nepal.
7. With a yoga teacher training in Nepal you can benefit from attractive pricing
Another reason to choose a yoga teacher training in India can be the relatively lower price. A yoga teacher training is always a significant investment. However, as costs for living and accommodation are significantly lower in India, the total price will be cheaper. Some courses include everything, others require additional booking of accommodation and meals. But even if you add the costs of your flight and visa, you can do a teacher training in India on a lower budget than in the West!
8. You will reconnect in Nepal with nature, culture and humans and yourself
Nepal is small beautiful country with a vast and varied landscape, jungles, rivers, Hills, Himalayas, and although it has a small population, you can find remote and natural places in more rural areas as well. For example, the Himalayan Yoga Academy is located in country sides of Kathmandu valley, just 12 km from Airport, 5 km from Thamel, a tourist town, 3 km from Swayambhunath Temples ( Monkey temple). It is surrounded by lush nature and jungles from 3 sides and one side's city views whole Kathmandu and a peaceful environment, next doors beautiful Monastery as well.
9.You will live the yogic lifestyle
Following a yoga teacher training in Nepal allows you to live the yogic lifestyle. The yogic lifestyle involves getting up at sunrise, this place called Sunrise Height, eating a balanced diet vegetarian, vegan, gluten free as your need, and engaging in physical activity as well as rest.
Prayer with mantras
Shatakarams like Jalaneti, Kapalbhati, Agnisar, Vaman Kriyas, Trataka, etc,
Proper exercise and yogaasanas
Proper breathing and pranayama
Proper rest and relaxation with Shavasana, singing bowl, yoga nidra and sleep quality
Proper diet (vegetarian), herbal teas, proper counseling
Positive thinking and meditation
Questions –answers session
10. You will experience a new way of learning and new way of living.
Educational systems are different all around the world. In Nepal, the traditional way of learning at Yoga school is called the Gurukula traditions and also you will get university styles system as well. They were expected to be part of the community, not only doing their schoolwork but also participating in maintenance duties. During a yoga teacher training, you will have the opportunity to be part of the community in the School, working, living and studying together.
11. You will have the experience of a lifetime and coming several generations as well.
Traveling to Nepal, Yoga retreat, volunteering, and following a yoga teacher training are all experiences that can radically change your life. Gaining new insights, overcoming challenges, motivational session, inspiring and entertaining practical session and meeting like-minded people all will make memories and connection that you take with you forever. What's more, the whole experience of existence will change something inside of you which is never seen outsides.
Conclusion on Yoga Teacher Training In Nepal :
There are a lot of reasons why you should definitely consider doing your yoga teacher training in Nepal and somewhere else around by Himalayas. You will learn about real yog throughout meditation and ultimate knowledge from the source, experience the yogic life, and dive deeper into your own learning process. Other advantages are the international character, the lower price and the beautiful environment in Himalayas. If you like, you can combine your training with traveling around this multi-dimensional featured country. Altogether, it will be an experience of a lifetime that will probably leave a long-lasting positive impression on you. After your yoga teacher training in Nepal, you will go home with new insights, loves, sense, inspiration and experiences that will enrich your life being fully memorable forever.