TEEJ FESTIVAL : A UNIQUE RITE AND CULTURAL BEAUTY IN NEPAL
21 Aug 2020 HYN Himalayan Yoga Academy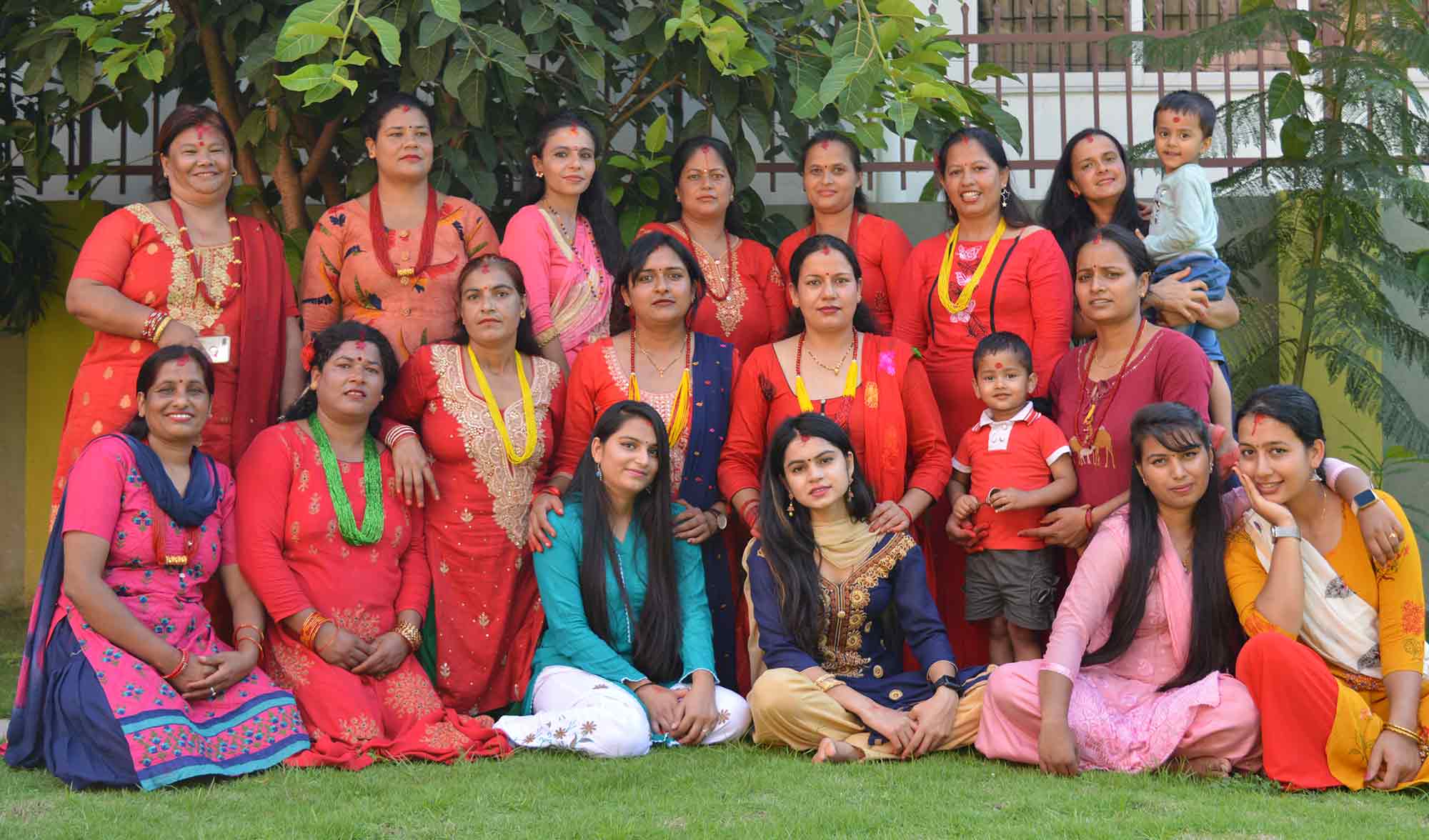 Nepal is one of such unique country with the beauty of culture and nature where festivals are celebrated with joy and in a very vibrant way. Being a multi-ethnic nation, Nepal celebrates each festival uniquely. One festival can be celebrated with different essence by different ethnic groups. In Nepal there are many small and big festivals celebrated on each months.More about Teej Festival.
Teej festival is the biggest Hindu festival of Nepalese women, generally falls in August or early in September which is celebrated all over Nepal. Mainly, the festival is dedicated to Goddess Parvati, the wife of Lord Shiva. During this Teej festival in Nepal, married women take Vrata (religious fast) for the long and healthy life of their husbands and family as well as pray for health and prosperity. On the same occasion, unmarried girls take Vrata to get nice husband in the future. Both Married and unmarried women celebrate Teej with joy, love and dedication. During the festival, women are dressed in red Saree with gold ornaments as much as available.
WHAT IS TEEJ AND ITS ORIGIN?
The name of this festival "Teej" is believed to have come from a small red insect, which only appears in the earth in the end of the monsoon season around August. So, this festival is named after that particular insect "Teej." Occurring around the month of August, Teej festival is celebrated by women all over Nepal for three days. Wearing the red sarees and red tika, bangles, and they sing and dance to traditional folk songs for days. It is especially significant for married women, when they get a special invitation to visit their birth town/ maternal home and feasts.
Having a long feast also known as Dar in dinner and supper, they sit for a 24 hour long Vrata / fasting, where most do not eat or even drink water. What is fascinating is to watch women of all age group, young and old, dance for hours in the heat, rain, traditionally without a drop of water or food for an entire day.
THE CAUSE BEHIND TEEJ FESTIVAL CELEBRATION
Teej festival is dedicated to the Goddess Parvati, marking her union with Lord Shiva. Teej is celebrated for the well-being of husband, children, and the whole family as well. Nowadays, they celebrate this festival as a way to be united and having fun while praying for the well-being of the husband and the all members of family. It has also become a way to bring women together of different class and celebrate the festival as one. The celebration of Teej implies the ultimate sacrifice a woman makes for her husband's health, prosperity and longevity.
HOW TO CELEBRATE TEEJ
In Nepal, Teej is a three-day festival. However, Teej is celebrated in different ways in different regions of Nepal. This festival is celebrated in total three days that combine the feast as well as rigid fasting culturally without the drink a drop of water. Teej is celebrated all across the world by Nepali Hindu women. It gives fun, mental relax, full of entertain, cultural pleasure and family harmony. Teej is a vibrant and pleasant festival that has been more popular since the start of this festival, however, in these recent years, this festival has influenced many Nepali women residing all over the world. Women in red attire sing and dance in the street, going to temple in the holy and even at home with fasting mood and strength. Usually, women get called by their parents or brothers, where she celebrates Teej with rest of the family members and siblings.
HARITALIKA TEEJ:
The word "Haritalika" is comprised of two words "harit" and "aalika", "harit" means "abduction" and "aalika" means "female friend." Haritalika Teej is celebrated as a remembrance to the Goddess Parvati and Lord Shiva. As per story, Goddess Parvati's father made a promise to marry her with Lord Vishu against her wish. But she didn't like and she told this to her friend, and she took Parvati to a thick forest where Parvati's father couldn't get her. Goddess Parvati prayed to Lord Shiva by making a Shiva lingam from her hair. Impressed by her devotion towards him, Lord Shiva married Parvati and since then the day is referred as Haritalika Teej as Goddess Parvati's friend (aalika) abducted (harit) her so she could achieve her goal of marrying Lord Shiva. So, Teej is celebrated in Nepal as Haritalika Teej.
Lord Shiva-Goddess Parvati Unification:
In Hindu mythology, it is believed that Goddess Parvati and Lord Shiva were united on this day. For this Parvati had to endure penance. It is said that she took 108 births on Earth before Lord Shiva accepted her as his wife. Since then, this day is considered to be an auspicious day and it is believed that whosoever remembers her on this day will be blessed with a happy married life and all her desires will be fulfilled.
One special aspect of Teej celebrations is the 'Teej Katha' that includes the stories of the legends associated to the festival. In the evening, the women gather to hear the narration of this Katha and pray for good health of their husbands and husbands-to-be and a blissful married life. Teej Puja begins with the offerings of flowers and fruits to the goddess. The food delicacies such as Ghevar, Dal Bati Churma, Besan Laddu, Kaju Katli and Sattu form an indispensable part of Teej celebrations.
Significance of Teej Festival in Nepal
Teej is the great festival for Hindu Women who celebrate as for the long lasting life of her Husband. It is also a monsoon festival celebrated for the union of lord shiva (Hindu God is known as destruction, consciousness and creation) and Parvati (Hindu Goddess is known as Devi Shakti, will, action and knowledge).
The significance of such a festival is for women to ask for special blessings by Lord Shiva, to have attain a good husband in life, and to pray for his longevity and prosperity.
On the final day of this three day festival Women satisfy seven saints offering them food, money and various offerings, and also bathing with Red mud and brushing their teeth with Datiwan (branches of a bush tree) hoping this purifies their body and soul.
It is a sight to behold at the Pashupatinath temple, where thousands of women draped in Red and green throng the premises of the temple. Observers can take photos of these women dancing merrily, where sometimes foreigners, especially women tourists are requested to participate in the merry-making.
This festival is a symbol of dedication of goddess Parvati for Lord Shiva. Even today, women commemorate this mythological event by keep a 'Nirjara Vrat' for their husband's well being and long life. This festival also helps in strengthening the bond between couples. This festival also welcomes the advent of Monsoon season.
Teej in Pashupatinath Temple
Pashupatinath is the famous Hindu Temple and also an important religious site for Hindus and is dedicated to Lord Shiva. It is believed that Shiva (Hindu God) is the most powerful deity known as God of Gods, also named as the one who has the power of creation and destruction. According to Hindu Mythology, Pashupati is the incarnation of Lord Shiva as the animal.
As Teej is all about Mahadev Shiva and Devi Parvati, people visit Pashupatinath Temple to worship Lord Shiva and to pray for the happiness and health of the family. More than 500,000 Nepali women visit Pashupatinath Temple during the Teej festival. People from different parts of the Indian subcontinent come to visit Pashupatinath to appease Lord Shiva.