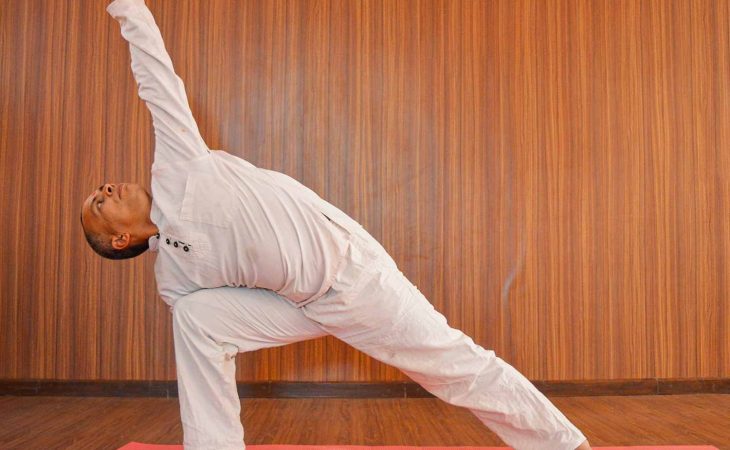 The 50-hour Ashtanga Vinyasa Yoga teacher certification course is suitable for teachers and practitioners. Vinyasa Ashtanga Vinyasa yoga is a series of asanas in a unique flow created by K. Pattabhi Jois in 20 century.
It requires energy and demands flexibility as well. During asanas and various movements breathe synchronizing, Ujjayi breath, and "Drishti" i.e. (focus on a particular point are very essential. Each of the poses is linked with the Vinyasa flow. The asanas are already fixed in the sequences. The proper alignment and way to asanas are thoroughly taught. After this practitioners are anticipated to memorize the sequence to practice without being guided by the teacher. The teacher will monitor and teach adjustment or assist in asanas unless and until you are perfect. After that, you can do your own self-practice.
In the primary series, there is Vinyasa flow many times. The flow will continue to warm the body up for better flexibility. Even iron becomes able to flex due to heat, the same does for the flow of the body. Vinyasa flow also strengthens the core and arms which finally prepares for the intermediate series. Ujjayi breath during the pose will help to give enough oxygen which continues the energy level in the body.
It's a great opportunity that you will learn Ashtanga Vinyasa Yoga from a highly experienced yoga teacher whose entire life is dedicated to yoga. All the teachers are experts in their field. They have a long experience, study, research, and practice in yoga.
The class begins with an Opening prayer, three to five times repetitions of Surya-Namaskar A, and three to five times repetitions of Surya-Namaskar B followed by a standing series.
There are six series in Ashtanga Vinyasa:
The Primary series (The First Series): Yoga Chikitsa, For good health.
The Intermediate series (The Second Series): Nadi Shodhana, The Nerve Cleanser
The Advanced series: Sthira Bhaga, Adjusting of Might
Advanced A, (Third series)
Advanced B, (Fourth series)
Advanced C, (Fifth Series)
Advanced D, (Sixth series)
What will you get in Ashtanga Vinyasa Yoga Teacher Training?
An internationally recognized 50-hour Vinyasa Yoga teacher certification
The ability to effectively and efficiently teach Ashtanga Vinyasa Yoga Primary Series.
Tools to improve your own practice
Professional sequences and flows
Personal guidance
Post-course support
What will you learn in this Ashtanga Vinyasa Yoga Teacher Training?
There are many things to learn which cannot be explained in words. The course will give the perfect access to enter the ocean of yoga. You will learn the relationship between yoga and your body. It teaches you a happy and harmonious life. Besides, you will learn the following things in the course-
A perfect practice of yoga to develop a healthy, strong, and flexible body.
Practice vinyasa flow perfectly
Learn Ashtanga Primary and Ashtanga Intermediate Series.
Instructing alignments of key postures in detail
Practice teaching and adjusting Ashtanga Vinyasa Yoga
Understand the underlying philosophy and history of Yoga
Understand how to prevent yoga injuries
Understand how to apply modifications on various asanas according to your body pattern or the diseases you have.
Practical and theoretical approach to learning.
Proper alignment of each and every asana.
You will learn how to teach others and how to apply in your own self-progress.
At the end of the course, you will feel great in the self. Your contentment, peacefulness, etc. will increase. You will find your body stronger, more active, healthier, and happier. You will definitely enjoy the great practice of yoga at Himalayan Yoga Academy. You will realize the meaning of life.
Course Syllabus
06:30 am - 07:00 am - Shatkarma
07:00 am -7:45 am: Mantra/ Pranayama / Mudras / Bandhas (Theory & Practices)
08:00 am - 09:00 am - Hatha Yoga Session
09:00 am - 10:00 am - Breakfast
10:30 am - 12:00 am - Yoga Philosophy
12:00 pm - 1:00 pm - Karma Yoga
1:00 pm - 2:00 pm - Lunch
2:00 pm – 4: 00 pm -Self-Study / Silence Practice / Self-Journaling / Free time
4:00 pm - 4:30 pm - Tea break
4:30 pm - 6:30 pm - Ashtanga Vinyasa Yoga Session & Practice teaching
7:00 - 8:00 pm - Dinner
8:00 pm - 9:00 pm - Self-Study / Free time & Sleep
Note : Schedule might change as per the Situation
50 Hour Ashtanga Vinyasa Yoga Teacher Training Training Cost
---
Private Accommodation - USD 1000 per person Double Sharing Accommodation - USD 800 per person Triple Sharing Accommodation - USD 600 per person
---
Note: If you are in Group, ask for special rates
What's included?
Accommodation; Attached Bathroom with Hot & Cold shower
Training Fees and Certificates
3 vegetarian or Vegan meals daily (Cultural Food on Festivals & Rituals)
Daily herbal tea as mentioned above, Drinking water
Library of yoga literature
Yoga Book-1, Notebook-1, Pen-1, Jalaneti pot-1
Volunteer teaching few hours a week in School as your interest
One Way Transfer / Transport (Arrival or Departure
What's not included?
Flights
Laundry
Extra Tours
Extra Therapy Sessions.
---
Course Dates:
22nd of Every Month
---