International 300 hour Yoga Alliance certification
Our yoga instructor certification courses are of outstanding quality, very literal from 'Veda' to 'Virtual' marked by excellence, innovative and attention to detail.
The training is not only suitable for aspiring yoga teachers but also for those who simply want to learn more about yoga and develop a stronger self-practice
300-hour advanced Veda to Virtual yoga teacher training
On-demand training released every week
Private training accountability group
Weekly live Zoom training calls
Live online sessions will be held over Zoom
Online sessions' time zone: UTC or London time
Yoga Paths: Traditional Hatha & Ashtanga, Mantra, Laya, Raja, Bhakti, Karma, Jnana, Dhyana, kundalini, and Ashtanga Vinyasa Yogasana, etc.
Study Materials through Google Classroom
 300 HOUR ONLINE Yoga Teacher Training 
Yoga is an intimate science and knowledge of human life all over the world and becoming ethical, universal and natural path of balance life as well as other acts like a food, job, entertain, and sleep. As the contest of technology and other common circumstances in daily life, it approaches through online media. So we would like to mediate the online courses in Yoga science. Yoga Alliance, has now endorsed online training programmes for inquisitives, yoga lovers, practitioners, and Yoga teachers. We will offer our 300 Hr Online Yoga Teacher Training, starting on 22nd of each Month, 2020.
You can take this Online Yoga Teacher Training based on real time or at your own pace that suits your schedule from 5 weeks and extend it as you like. Due to time difference between Nepal and the rest of world, we will manage the time alternately focusing east and west as well.
At Your Resolve
Latest by then you realize how wonderful it is to have access to class materials and lectures from the comfort of your home or mobile phone, so you can watch and replay them anytime you want. This is precisely what you will be able to do upon completion of this training. The certification will be exactly the same as you would receive if you were to do the course in-person and you will be qualified to teach yoga both online and offline.
Personalized
Most Classes will be taught through live online sessions, while others have been recorded and will be offered through an online course platform, allowing you to access those sessions even at a later point in time. In any case this is the most personal, high-touch, interactive yoga course online. First we do introduction session on the content given in syllabus and provide the short videos, then after few days we do review, interaction and feedback session. We will do keep moderator through online to connect with you
How the 300 hour Online Yoga Teacher Training works:
This Online Yoga Teacher Training will be held online via Zoom. Kindly make sure you have a webcam or smart phone with a camera. You can use your iPad or other mobile devices to complete this training. You will have live training option with others for certain classes, all of the core training and learning material will be available on-demand. You will be able to access your courses on any of your mobile devices, desktop, or laptop. You can take this course based on real time or at your own pace that suits your schedule from 5 weeks and extends it as you like.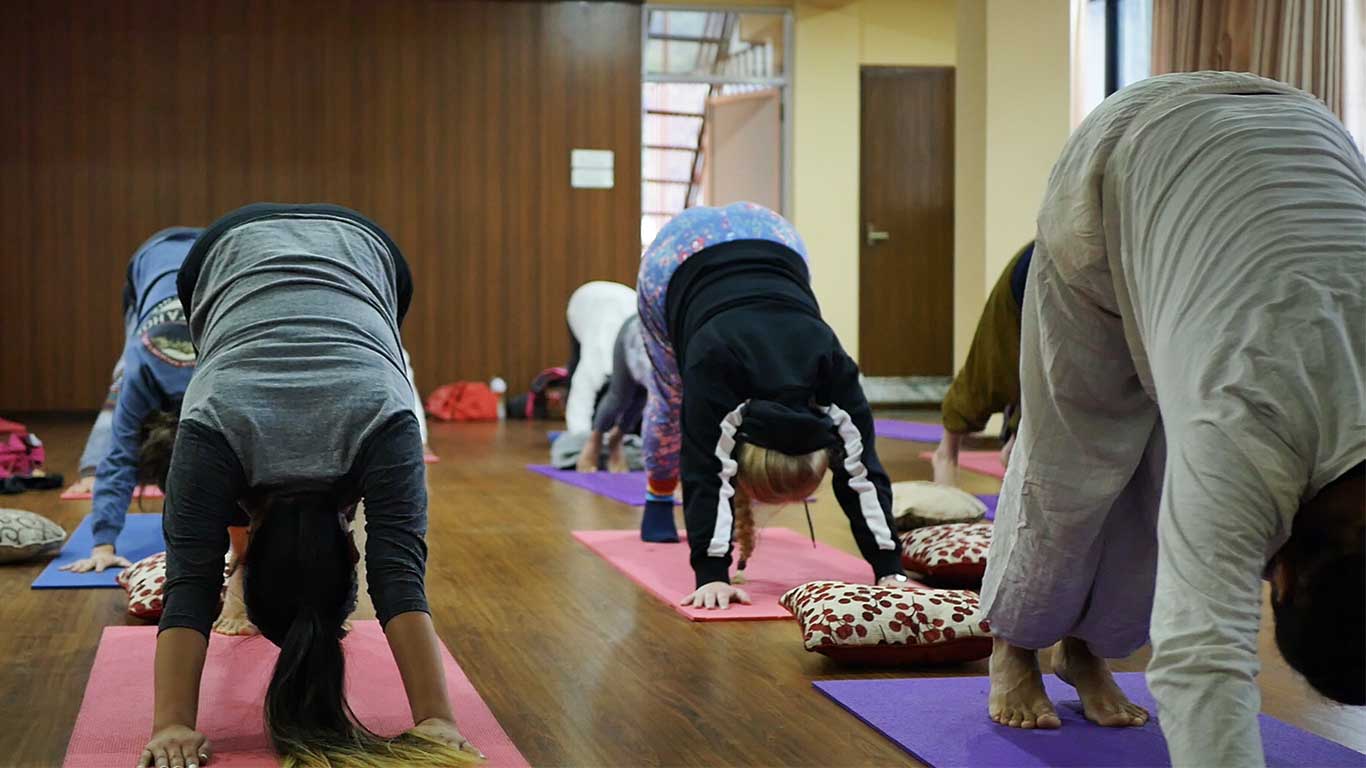 Certifications of 300 hour Online Yoga Teacher Training:
Students who complete this Online Yoga Teacher Training are eligible to register with Yoga Alliance as Registered Yoga Teachers (RYT®)
Contact Hours: 120 Hours
Class Schedule:  Alternately or as understanding
Non-Contact Hour – 120 Hour
Class Time: Choose One Time AM OR PM
09:00 am to 11:00 (Nepali Time);             OR         17:00 To 21:00 (Nepali Time)
Day Schedules of 300 hour Online Yoga Teacher Training
120 MINUTES YOGA CAPSULE
60 Minutes (Theory) – Fundamentals, History, & Schools of Yoga and Body Science
60 Minutes (Practice)
Shatakarma; Prayer & Warm up 10 min
Dynamic & T.T.K.H.P  10 min OR Surya namaskar :10 min (6 cycles)
Aasanas : 30 min
Agnisaara, Bandha, Mudra or, Pranayama : 20min
Yoga Nidra or, Dhyana : 20 min
Please note that all classes are recorded. If you cannot attend or if it is too late in your time zone, classes can be made up, as you will be able to watch the recorded classes when convenient for you.
There will be live Q&A sessions for questions regarding theory or practice, which you can send by email to Ganga and they will be addressed at the time of the live Q&A sessions.
In addition, those lectures that you have not completed by the 30th of July, you will have a chance to complete adding few more days and ongoing.
During the course you will receive assignments which will be either in the form of written homework, photo or video or practice.
Course Syallabus
Asanas – Yoga Postures
Two types of asana classes will be conducted:
One daily asana practice class which will provide you with the opportunity to practice your asanas and will help you to develop a strong personal practice of asanas, and
One daily teaching practice class devoted to understanding how to teach the asanas – we will break down the asanas and understand alignment, most common errors, and how to help students self-correct.
The daily in-depth practice with individual corrections comprises:
Effective warm-ups and how to incorporate them into the class - various categories of warm-ups and shatakarmas (Six cleansing Acts)
Sun salutation and its variations
84 basic yoga postures and Postural alignment
More than 120 asana with variations, from beginners' level to advanced and different basic series. Ashtanga Intermediate Asana series
Release of blocked energy, safety rules and deep healing
How to develop flexibility and strength
Helpful instructions for alignment in the asanas and how to self-correct as well as adjust students
Swasa Kriya (Breath Acts), Bandha, and Pranayama
Expands breathing capacity
Relaxes the nervous system and Balances the two hemispheres of the brain
Purifies the nadis (subtle energy channels) and Stores energy in the chakras
Nadi Shodhan, Bhastrika, Ujjayi, Surya Bheda, Sitali, Sitkari, Bhramari and the 10 Vayus (Pranas) and Pranayama
Neti, Nauli, Kapalabhati and tongue cleaning : classical yogic purification techniques for the nose, lungs, abdomen and tongue which will be demonstrated and practiced
Bandhas: Jalandhara, Uddayana and Mula Bandha
Mudras, Guided deep relaxation, Yoga nidra and Dhyana (Meditation)
Balances the energy, Calms the mind and opens the soul.
Mudras
General Health rules
Yogic secrets for a long life
Lymphatic drainage massage
Yoga Anatomy, Physiology and Bio-Psychology
Introduction to the major body systems
The effects of yoga on: the cardiovascular system, respiration, digestion, skeletal and muscular systems, endocrine system
The science of asanas: their physical and mental benefits
Yoga and physical culture
Yogic Diet, Nutrition and the Principles of Ayurveda
Human Anatomy and Yoga Physiology are important aspects of yoga study, but another relatively unexplored aspect of yoga is Bio-Psychology. Bio-Psychology is the study of glands and hormones and their profound effects on all physical and mental (psychic) functions like growth, digestion, energy levels, emotions, etc.
Subtle Anatomy: Koshas, Vayus, Nadiis, Prana, Chakras
The History of Yoga and development of Yoga
Meaning and Definitions of Yoga
A brief history of Tantra
From Shiva, Krishna; Patanjali
The Nath lineage - Astavakra Muni, Gheranda, Swatmaram
Ramakrsna and Vivekananda; Sri Tirumalai Krishnamacharya and his students
Karma and Reincarnation
The law of action and reaction, Dharma, Karma, Bandage and Liberation
Karma and Samskara (Samskara means reactive momenta to past actions and is not to be confused with the term Samsara, which means the wheel of birth and rebirth)
Life, death, rebirth and liberation; Destiny, Prapatti Vada and self-effort
Teaching practice
What qualities should a yoga teacher have? This module will focus on the qualities of a good yoga teacher with an emphasis on teaching methodology, e.g. how to communicate with students, how to demonstrate, observe the student in the class to avoid injury during practice of asana. We will also discuss the personal and professional ethics of a yoga teacher.
You will also be given a fully designed beginner's course which you can apply in real life as soon as you have completed the course.
How to teach the basic postures, breathing exercises and elementary meditation to beginners and intermediate students
Setting up of a proper environment for class
Mindful Sequencing
Use of voice and presentation skills
General pointers on teaching a class
Beginners' Course and Advanced Postures
Yoga for Children and Yoga for Older Citizens
Yoga for Pregnancy
Detailed correction workshops
In the second half of the training course, participants will teach each other under the guidance of an experienced instructor
Yoga Nutrition
Vegetarianism for ethical, spiritual and health reasons
How diet affects the mind
Proper balance of the main nutrients
Ayurvedic principles of nutrition
Healing effects of fasting
Meditation
What is meditation? And Guide to meditation
Why meditate and Experiences in meditation
Mantras as powerful sound energy healing and purifying the chakras, nadis and body cells
The science of mantra and The 3 qualities a mantra must possess
Mantra initiation
Light Knowledge on Types of Yoga
Classical Yoga
Ashtanga - the 8 limbs of yoga
Ethics and moral principles
Chaturbidh Yoga: Hatha Yoga, Mantra Yoga, Laya Yoga and Raja Yoga
Pancha- Koshas – the five layers of body and pancha pranas
Concentration and meditation
The six lessons of Sahaja Yoga
'Veda' TO 'Virtual' Himalayan 300 Hour Online Yoga Teacher Training Training Cost
---
Sharing Accommodation - USD 830 per person
---
Note: If you are in Group, ask for special rates
---